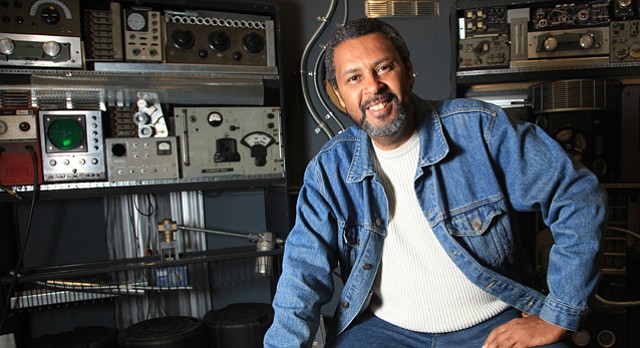 It's a busy time for filmmaker and KU associate professor Kevin Willmott.
Principal photography recently wrapped on the new Spike Lee film "Chiraq," which he co-wrote with the director. The movie, which stirred up controversy because of its name alone, is the first to be released by Amazon Studios. It stars John Cusack, Samuel L. Jackson and Angela Bassett, and will debut in December, in time for awards consideration.
Willmott has been in Chicago since shooting began June 1, and he took the time to answer a round of 10 questions about how he got his start as a filmmaker, how his film "C.S.A." ties in to recent controversy over the Confederate flag and what will surprise people about "Chiraq" when they see it.
1. Was there one movie that made you fall in love with film?
I can't say there's one movie. I went to the movies about every weekend when I was a kid and watched a ton of movies on television. I think it was the overall effect that created a love of movies for me.
2. How did growing up in Junction City shape you?
The diversity. Our family was not in the military and almost everybody else was. The people who were not in the military lived a different life. In some ways you could call us second-class citizens. There was a huge amount of what they call "war brides," where men brought women home from overseas and they had kids, so I had this huge diversity in people I grew up with — black and Japanese, black and Korean, black and Filipino, black and Italian, black and German, and white in all those same mixtures as well. We had this beautiful mix of cultures and at the time, but in those days they were ashamed of it; they didn't celebrate it. It's like Junction had diversity before they even used the term "diversity."
3. What's the best thing about teaching at KU?
You get to share what you love with students. It's a real opportunity to be able to teach what you love and to have students that you see grow and change, and are affected by what you're teaching. That's about as good as it gets.
4. What's the most valuable piece of writing advice you could give an aspiring screenwriter?
They always tell you: "Write what you know," and there's a lot of truth to that, but I think there's also another step to that: "Write what you believe in." That challenges the writer a little more because then you have to have something that you believe in.
5. You said once that NBC execs told you to write the miniseries "The '70s" for a junior-high level. Did anything from that experience — and creative limitation — prove useful later on in your career?
Yeah, I think so. It was right after that and after 9/11 that I moved away from writing for the industry, and started writing just for making my films. And I think that experience with "The '70s" — which wasn't a totally bad experience, but working in the industry like that — wasn't very fulfilling. And I think it was because I really couldn't be myself. I was very fortunate I got a lot of good jobs — Oliver Stone [scripts with Kansas–based screenwriter Mitch Brian called "Little Brown Brothers" and an adaptation of Michael Blake's novel "Marching to Valhalla"] and some different people — that I got to be myself with, but unfortunately those movies were never made. The only movie that was ever made was the one they dummied down. It left me with a desire to produce things that represented more who I really was. I'm hoping "Chiraq" will allow me to work on my own terms within the industry a little more.
6. How do you feel that your 2004 faux-documentary satire "C.S.A.: The Confederate States of America" has aged, considering the new controversies over flying the Confederate flag?
Well, "C.S.A." continues to be the film that keeps on giving, unfortunately. It's aged very well and unfortunately will continue to age well. "C.S.A." is really about the conflict that's going on in the Untied States. It's obviously defined by North and the South and the Confederate flag and all those things, but it really goes a lot deeper than that now. It really is what defines the blue state and the red state and what defines Democrat and Republican and all the major divisions that we have in the country now. They're pretty bitter and very steadfast. "C.S.A." is about that division and unfortunately, it's not going to go away for some time.
7. Now that "Jayhawkers" is out on DVD and more people have gotten a chance to see it, what has the reaction been from sports figures, broadcasters, etc.?
As a whole, we've gotten good reviews from that. I've been at screenings where sports figures were present — people that played in the '60s, not necessarily with Wilt but were significant figures during that civil rights period in sports—and they all really love the film. There's so many things that people who played sports at that time can relate to that's beyond KU and Wilt. There was a shared experience that a lot of people had. Sports changed a lot of moods in this country in terms of civil rights. I consistently run in to people that tell me those stories — that the movie reminds them of their experiences.
8. How did "Chiraq" originate and how did Spike Lee get involved?
It had been an idea that I had for a long time. It originated from college and was influenced by different literary things. So then I wrote the script 13 years ago and it was not set in Chicago then, just "a major city." When I did "C.S.A.," Spike — we had the same agent at the time, and he had "presented" "C.S.A." — he asked me if I had any other scripts. He read the script and really loved it. It was called "Gotta Give it Up!" and we went to all the major studios to try to produce the film. We had two readings for DreamWorks and Jennifer Lopez was supposed to play the lead at that time. We got close, but it fell apart at the end. So about a year ago, he called me back and said, "You still have that script?" I said "Yeah," and he said, "let's rewrite it, set it in Chicago, and call it 'Chiraq.'" That's how we got here today. The difference is that Amazon is a player now and is producing films, and that's probably the only reason the movie's being made — because somebody like Amazon exists and is making really cool movies.
9. When controversy erupts over a movie no one's seen yet, the talking heads almost always get it wrong. What about "Chiraq" will surprise people?
Everything will surprise them. The way I describe the movie is that it's not about the problem; it's about the solution. I think people just assume the movie's going to be about the problem. We've seen lots of movies about the problem, but we've never seen a movie about the solution. That's what's going to make the movie really unique and I think surprise people a great deal.
9 1/2. Just from hearing you say that, it sounds like it could be a thematic bookend to "Do the Right Thing."
There's a lot of similarities to "Do the Right Thing." Not plot-wise, but style-wise, this movie's allowed him to go back to a real Spike Lee Joint and it really represents what he believes in and what he's always been known for. I think people will have a lot to talk about with this film.
10. What are your top five movies of all-time?
That's awful hard. Movies are like your children. They're all different and you love them each in a different way. You can't really say, "I just love Billy the most," but I'll name you a few of my favorites: Probably "Dr. Strangelove" would be on that list. Maybe "Being There." I'm a real big Hal Ashby fan. "Harold and Maude" would be on there. "The Verdict," I really like that movie a lot. And probably the first "Shaft" movie by Gordon Parks.
— Eric Melin is a freelance writer as well as film critic and editor-in-chief of Scene Stealers.