For a sandwich modeled after chicken Parmesan that doesn't actually contain any animal protein, Yello Sub's Tempeh Parmesan offers a surprisingly meaty taste and texture.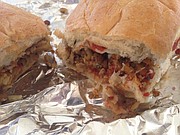 It's got all the components of the classic Italian-American dish — marinara sauce, plus melted provolone and Parmesan cheeses — but swaps out the chicken (or eggplant, come to think of it) for tempeh, which has boasts roots far from the Mediterranean.
The traditionally Indonesian soy product is made through natural culturing and a controlled fermentation process that gives it the texture of a very firm veggie burger. At Yello Sub, it's baked first, then marinated in a mixture of wine vinegar, oil, soy sauce, oregano and black pepper.
This sandwich should appease vegetarians looking for a taste of Italian comfort food. And for those of us who enjoy a nice piece of meat, it's not half bad, either.
Where to get it: Yello Sub, 1814 W. 23rd St.
What you'll pay: $5.49 for a half; $8.99 for a whole
Try it with: Chips or a cookie if you're looking to indulge; a side salad if you're fully committed to the whole "healthy meal" thing
Also on the menu: Any kind of sandwich creation imaginable, from the classics to a bevy of vegetarian options (Yello Sub seems to have a thing for tempeh) to more zany offerings like the Tijuana Taxi and Dagwood's Dream, which you may remember from an earlier Off the Beaten Plate. There are also a few seafood sandwiches, tortilla and romaine wraps, as well as soups and salads.