Summer isn't here officially — that won't happen for another three weeks or so — but since school is out and temperatures are on the rise, we thought we'd take this month's Lawrence Libations in search of a refreshing, hot-weather drink.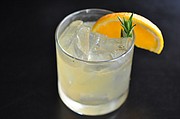 To celebrate the tentative start of the season, we sampled a drink from 715's seasonal menu, which switches out twice a year for the warmer and cooler seasons.
Clockwork Orange debuted two months ago at the restaurant, and from what bartender Evan Gottstine tells us, it's since become a best-seller.
The drink starts with Ketel One vodka, Dolin blanc vermouth and dry Curaçao — the liqueur is flavored with the dried peel of an orange-like fruit called the laraha, hence the name: Clockwork Orange. Celery bitters, a garnish of orange slice and a sprig of rosemary give the cocktail a fresh, garden-y feel.
It's not overly strong, so drink yours for a morning or mid-day pick-me-up, Gottstine suggests.
The hard stuff: Ketel One vodka, Dolin blanc vermouth, dry Curaçao and celery bitters
Where it's served: 715, 715 Massachusetts St.
What it costs: $10, plus tax
Other libations at this location: If you're looking for other refreshing summertime options, 715 recently debuted the Aviation on its happy-hour menu. This sour-sweet martini is sort of a grown-up version of lemonade. One of 715's longtime favorites, the Beet Generation, isn't technically seasonal (it's available year-round) but its ingredients — beet-infused gin, Aperol, Domaine de Canton ginger-flavored liqueur, honey, lemon and fresh mint — make it a perfect drink to cool off on hot summer nights.
— Drink up. Stay classy. Don't forget to tip your bartender. And let us know if you want to suggest a libation for this feature — email jhlavacek@ljworld.com or Tweet her at Twitter.com/hlavacekjoanna. Cheers.
More like this story on Lawrence.com