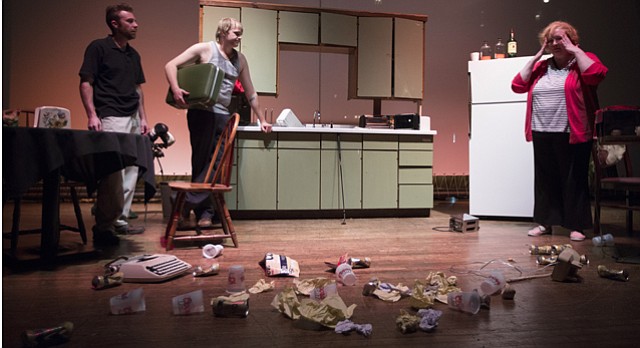 Rob Schulte wants you to "feel weird" leaving the theater after experiencing "True West," a Card Table Theatre production set to open Friday at Liberty Hall.
If you go
What: "True West"
Where: Liberty Hall, 644 Massachusetts St.
When: Performances are 7:30 p.m. June 5, 6, 12 and 13
Cost: Tickets cost $15 and can be purchased at the Liberty Hall box office or through Liberty Hall's website.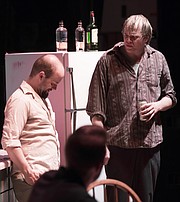 Penned by Sam Shepard, the 1980 drama follows a pair of estranged brothers who, at very different stages in their lives, end up reuniting at the empty home of their vacationing mother.
Chaos ensues as the men gradually adopt each other's opposing personalities and ultimately discover they have a lot more in common with each other — and their deadbeat father — than they previously thought.
Everything in Schulte's production — from the casting to the staging to the music — is meant to heighten the tension already present in Shepard's script.
"Because of how intense it gets, you think, 'Wow, that situation didn't actually need to happen, but it did.' I'm hoping people will be able to relate to that and feel a little uncomfortable in their own skin," says Schulte, the play's director. "I don't want people to walk out of it going, 'Oh yeah, they did a good job. That was nice.' I want them to leave thinking, 'Holy (expletive), you remember when 'z, y, x' happened?'"
Schulte — with help from Card Table Productions' Will Averill, Jacqueline Grunau and Jeremy Auman — secured Liberty Hall's "big theater" as the venue, which on most days hosts movie screenings.
During the play's four-night run — 7:30 p.m. Friday, Saturday, June 12 and 13 — actors and the audience will share the stage behind the theater's curtain. Chairs will be arranged in a half moon to accommodate up to 60 audience members per night.
"I think people feel comfortable when they're sitting in a spot they know they're supposed to be sitting in. And so if we keep them in this weird situation, they'll already have this tension," Schulte says. "It's just messing with their brains and senses and making sure they're in the right zone when the play starts."
Also setting the scene: Spencer Mackenzie Brown, a local musician and Schulte's co-worker at La Prima Tazza. He'll be providing live music for the production, playing contemporary pieces as the audience enters to help set the vibe, Schulte says, as well as other tunes during scene changes and again at intermission and the finale.

It's Schulte's first time at the helm of a dramatic production since graduating from Kansas University's theater program nearly a decade ago. For Schulte, who also manages La Prima Tazza and performs standup in his Harpoon Presents comedy collective, staging this play has been a long time coming.
He's been a fan of Shepard's work for years, but was drawn to "True West" because unlike other Shepard family-themed works in which the father plays a central role "as the catalyst for the degradation and downfall" of the family, "True West" audiences never see Austin and Lee's much-discussed dad.
Even out of the picture, their father still manages to wreak havoc on the two brothers — Austin, a respected Hollywood screenwriter and family man, and Lee, an unpredictable drifter and thief who travels into the dessert in search of his dad.
Just as Austin and Lee slowly "switch" personalities over the course of the play, actors Derek Trautwein and Chris Roady will switch roles from one night of "True West" to the next.

Though the script doesn't call for double-casting, Roady says it feels "almost intentional" on Shepard's part. Austin and Lee may appear on the surface as completely different personalities, but at their core, they're in many ways mirror images of each other — and their father.
Roady points out how Shepard himself grew up under an alcoholic father. In his research, Roady learned that Shepard, as a young man, vowed to never become like his dad.
But in a sad, ironic twist, history seems to have repeated itself. Within the last six years, Shepard has racked up two arrests — the most recent occurring just last month — for drunken driving.
"No matter how hard you try to fight it, under pressure we all revert back to those roles that shaped our lives," Roady says, explaining what he sees as the major theme of "True West."