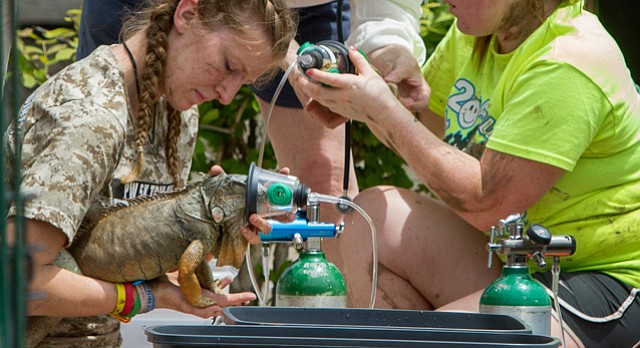 National Public Radio recently published an article by Quoctrung Bui on the likelihood of a machine taking over a variety of jobs. Researchers scored jobs based on nine traits and listed a percentage estimate of a job's chance of being automated.
Four traits that researches found to be the most important were: Do you need to come up with clever solutions? Does your job require you to squeeze into small spaces? Does your job require negotiation? Are you required to personally help others?
Two examples showed that cartographers have a 87.9 percent chance of being automated while a preschool teacher only has 0.7 percent. The good news for me is that photographers have only a 2.1 percent chance of having a robot steal their job. Take that R2-D2.
Photo Gallery
Pet World fire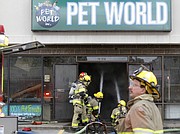 Firefighters battled an afternoon fire Monday at Pet World, in the Malls Shopping Center, 711 W. 23rd St. while store staff and volunteers attended to rescued animals.
On Memorial Day, after a busy morning covering a 5K run, the first homicide of the year and a feature at Oak Hill Cemetery, I got a text from my editor that read "fire at pet world — heavy smoke." You would have to be a robot not to experience knots in your stomach and emotional anxiety at getting that text. I quickly got to the store in the Malls Shopping Center and put some of the four recommended traits to the test.
Using my iPhone and Twitter, I immediately tweeted out a video of the first minutes of firefighters responding to the fire. Next, I began shooting photographs of the scene and gathered crowd.
People looked visibly concerned and upset at what was unfolding and the unknown fate of the animals. I concentrated on my photography and documented the scene, but I also was distraught about what was happening.
As firefighters began bringing animals out of the smoke-filled building, I wound a cautious path through the scene, squeezing into small spaces around firefighters and Pet World staff attending to rescued pets.
In the midst of this tragic event, I wanted to photograph these moments of caring that, even if only for a brief time, lifted the spirits of the workers and those helplessly watching. But within seconds of the first animal reaching safety, firefighters hung a yellow tape perimeter line and I was moved to the other side.
I tried to negotiate with a firefighter to allow me to continue photographing inside the taped area. He kindly checked with his commander but I was denied access. So, from a distance, I continued to photograph the rescue efforts and medical response to the animals, seeking good photo vantage points and creative ways to document the activities.
Although I may have appeared robot-like at the scene, the traits of negotiation, creative solutions and maneuvering in tight areas should keep me from being replaced by a piece of electronic circuitry.
I may not have been personally helping anyone that day, but I believe my photographer's trait of visually describing how Pet World staff, volunteers and firefighters helped each other and the animals captured the best of what it means to be human.