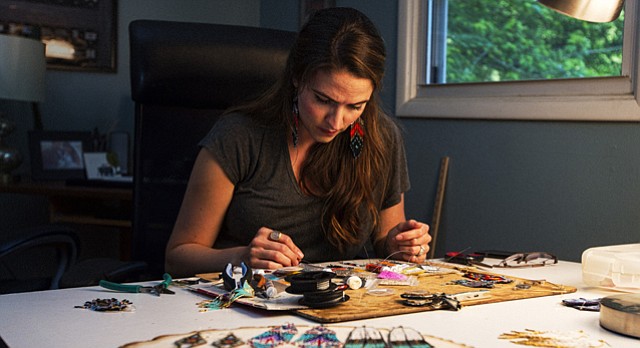 For Margie Hogue, home improvement and fashion are inextricably linked.
Growing up in Pittsburg, Hogue spent a lot of time tinkering around the house with her mother. Their home, an old "semi-Victorian" beauty built just before the turn of the 20th century, provided the family with an ongoing list of projects, Hogue recalls.
It was in the midst of these renovations — peeling back layers of paint, refinishing the house's surfaces and restoring it to its original splendor — that Hogue developed an appreciation for craftsmanship and the virtues of taking things slowly.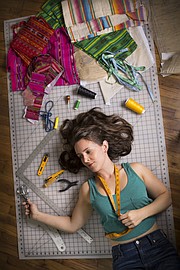 If you go
What: West 18th Street Fashion Show
When: Saturday at 8 p.m.
Where: An outdoor catwalk will be set up on West 18th Street, between Baltimore and Wyandotte streets in Kansas City, Mo.
Cost: Spectator seats, which are located in the second, third and fourth rows, are still available for $55 and can be purchased online. Seats beyond the fourth row are free, and will be available on a first-come basis.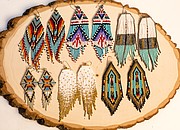 Now, at 33, she's applying those same principles to her career in fashion.
"I think that's where it originated," Hogue says of her design aesthetic, which leans toward utility and minimalism while still retaining a colorful, feminine vibe. "Things are meant to last, you know?"
Hogue is one of two Lawrence-based designers participating in Saturday's West 18th Street Fashion Show in Kansas City, Mo., where models will show off garments and accessories created by over 30 designers.
Most are from the Kansas City area, a handful working on a national level, but all forwent the show's usual application process. This year, in celebration of West 18th Street Fashion Show's 15th anniversary, event organizers chose a theme of "Invitational Summer," hand-picking each designer in the lineup.
"Because it's a milestone, we wanted to do things a little differently," says Jennifer Lapka, the show's co-executive director. "We wanted to look back on years past and select those who are still working in the area who are doing interesting things and who would complement the other designers."
While designers are normally asked to build collections around the event's theme, Lapka says this year's participants (garment designers are paired with accessories designers) were given total creative freedom.
It's a move that's allowed Hogue's friend and fellow Lawrencian Rachel Rieke to branch out of her comfort zone, venturing into the previously uncharted "realm of bracelets." During last year's West 18th Street Fashion Show — Rieke's first — she teamed up with Hogue. This time around, she's working with Kansas City-based garment designer Elodie Auvray on a bright, tropical-themed, summertime collection.
Drawing from Auvray's Caribbean heritage, the idea was to create something Rastafarian-inspired yet glamorous, Rieke says — think lots of reds, yellows and greens, but in muted shades and "more beachy."
She's using the fabrics Auvray scored from Trinidad to inform her beaded pieces, which include a few "really thick armbands" plus several large-scale earrings and necklaces.
Also, expect a lot of gold and yellow. They're Rieke's signature shades.
"Color has always inspired me," says Rieke, who studied film at Kansas University. "There are infinite possibilities of combinations and designs you can come up with."
Her "obsession" with color started in childhood. Rieke loved creating friendship bracelets for her pals, but never studied jewelry-making in school. About five years ago, the self-taught designer started selling her brightly hued, hand-beaded baubles commercially.
She's now carved out a successful side business with her Wild Mint jewelry line, which features plenty of shimmery, triangular designs with fringe and the occasional Native American-inspired motif.
Each piece — with the exception of a few — is one-of-a-kind, says Rieke, who prefers the "more organic" process of handbeading over using a loom. And she's grateful to the Lawrence community for allowing her to keep at it.
"That's the great thing about Lawrence. I will always appreciate the women who seek me out to get a handmade present for their friend, when they could just go online," she says. "I'll never take that for granted."

For her collection with Kansas City-based accessories designer Robyn Nichols, Hogue found inspiration — as she always does — in textiles, using colorful woven fabrics from Guatemala.
They're working around a "tropical-inspired" wedding theme, with Nichols creating hair accessories, an oversized belt and a capelet with giant vinyl blossoms.

For the show's first look, Hogue's putting one of her models (a "flower girl") in a blue dress with a plunging neckline and braided shoulder straps. Its mid-length circle skirt gives the frock an easy, breezy feel.

"For me, apparel is functional and utilitarian. I need it to fit me and perform well, but as I've gotten older, I've incorporated more color into my wardrobe," says Hogue, who views fashion as a form of personal expression. "It's kind of surprising to see modern, feminine silhouettes that are made out of exotic fabrics."
It was shortly after finishing her studies in fashion design from Johnson County Community College that Hogue, who also has a degree in French from Kansas University, got a call from her friend Kate von Achen.
The KU graduate had just founded Awava, an apparel-and-accessories company that offers economic empowerment through employing Ugandan artisans and tailors, and wondered if Hogue might design a collection for her.
Hogue ended up spending a month in the town of Gulu, and together with shop mistress Mama Lucy, helped organized production and set standards for the fledging business. During her time in Uganda, Hogue fell in love with the richly hued, busy patterns of African kitenge and wax-printed fabrics.
Three years later, Awava is still going strong, though Hogue says it's become more of a "part-time, volunteering" venture for her. Since settling into her job as a pattern designer and technical designer for Lee jeans in Merriam, she's now feeling ready to head a similarly minded project here in Lawrence.
Once the fashion show wraps, her next goal is to set up an Etsy shop and maybe hire a few employees to help her out with production. Lawrence, with its relatively low cost of living, is "as good a place as any to be creative," she says.
"One of the biggest things I want to see in fashion and what I want to hold myself accountable for is creating opportunities for the textile makers and seamstresses and tailors that I'll be working with in the future," Hogue says. "Everybody deserves a good life, and I need to live somewhere that allows me to work toward that."
http://www.youtube.com/watch?v=T5njQuPTSO8