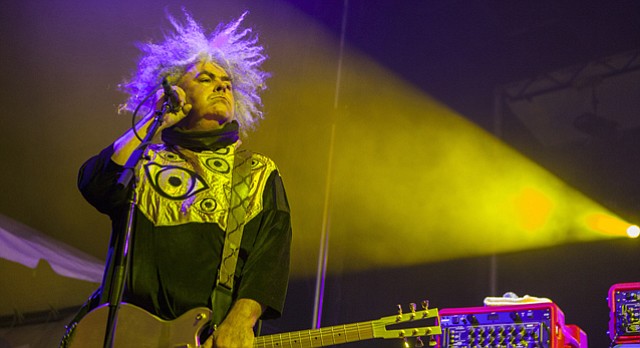 Originally published June 10, 2015 at noon, updated June 10, 2015 at 10:35 p.m.
Buzz Osborne will insist that nobody ever listens to him, but the man behind The Melvins is actually full of good ideas.
You'd have to be, to have a career spanning as long as his. With more than 20 studio albums and 30 years of performing as The Melvins, the band is consistent, successful and sports some very strong opinions.
"I've always operated like I was going to be out of business in six months. Basically, that it wasn't going to work," Osborne says. "As long as I've operated like it wasn't going to work, I haven't gotten myself in trouble." Osborne also urges living in "varying levels of high anxiety" to keep himself focused.
The Melvins will grace Lawrence with some of those high levels of anxiety when they hit the Bottleneck stage on Sunday, June 14. The band is iconic for fans of the grunge scene, but Osborne tends to shrug off that label.
"When we were involved in the grunge scene, we lived in California, not Seattle. Ninety-nine percent of the work we've done has been in San Francisco and Los Angeles," he says. "Through no fault of my own, I'm lumped into all that stuff. It shows it doesn't matter what the facts are, it's what people believe."
He recalls talking music with his nephew, who tried to convince him of differences between power metal, power violence metal, and death metal. That's where Osborne reiterated his disdain for sub-genres.
"I said, there's no difference between any of that stuff. It's attitude. You can get down to the particulars, but what I'm talking about is attitude," he says. "When I started going to punk shows, all the bands were terrible. None of that's changed. I'm sure I could find a few bands that are always cool, but it irritates me when I see a band and say, 'Oh, I see who they're ripping off.' Why would you want to do something exactly as someone else?"
The touring trick
Aside from a stint in 2012 where they played 51 shows in 51 days in every state plus Washington, D.C., the band has paced themselves on tours.
"We do it all very seriously. We try to run it as professionally as possible. That's the best way to do it," Osborne advises, and recommends staying away from "extracurricular activities." "Those kinds of things are the reason why a lot of bands don't make it out there. I mean, you gotta be professional and do your job."
But Osborne has some pertinent advice to pass on to bands just starting out.
"Whatever area you're living… if you can't make money within an eight-hour radius there, you can't make money on the East Coast," he says, and recalls a time when The Melvins stopped touring in 1986 and didn't start back up again for three years so they could do it properly. "I was never in a position to go out and lose a bunch of money. I was working a (terrible) job — you think we could go out and lose a bunch of clams on the road? No way, I can't do that again. So we waited until we didn't have to do that. We didn't have a lot of money, but we could make ends meet just by touring and we didn't lost any money. That was the beginning; just take it from there, and just keep hustling."
Format fuss
When The Melvins do hit the road, Osborne makes sure to bring some vinyl along for the fans. He doesn't have anything against vinyl, but his personal preferences put him in awe of a different format.
"I personally think the best thing out there, sound-wise, is CDs because they sound better," he says. "If you have a good stereo and a turntable, vinyl sounds fine. But as far as being better, there are things that just aren't there."
Osborne recalls the first time he heard his music on a CD.
"I heard things from our first album, I heard things that were clearly not on the vinyl that we recorded. We couldn't believe it, how great it sounded," he says. "People think that CDs don't sound good — that's absurd. I don't care how someone listens to my music, but if I want something, I'll buy a CD of it. I don't' trust it on a computer, and I don't collect vinyl."
But Osborne admires the very notion of collecting vinyl. "At this point, collecting vinyl is an entry-level into collecting art, which is cool," he says. "I don't have a problem with that. But the argument between digital vs. metal is stale."
'The peculiar part'
Regardless of what format bands prefer, Osborne encourages musicians to stand out.
"Be peculiar as you can. Don't be other bands, don't be part of any scene. Let the public decide that for you," he says. "The peculiar part is important. Why would you want to look like anybody else? We were always in the grunge scene, but we don't have a thing in common with those bands. It doesn't matter what the facts are, it matters what people believe, even if it's wrong. You can't help that, you just soldier on. Keep your head down and keep working."
Osborne then re-states his earlier belief that despite all the ideas and practices that have kept The Melvins in business for decades, not everybody is keen to listen.
"Not a lot of people take my advice about anything," he says. "One thing I've learned, you're not going to outlast me. You think you have me figured out? You don't have nothing! I am a multifaceted nightmare."
You can experience this multifaceted nightmare when The Melvins play at 9 p.m. Sunday, June 14, at the Bottleneck.
More like this story on Lawrence.com