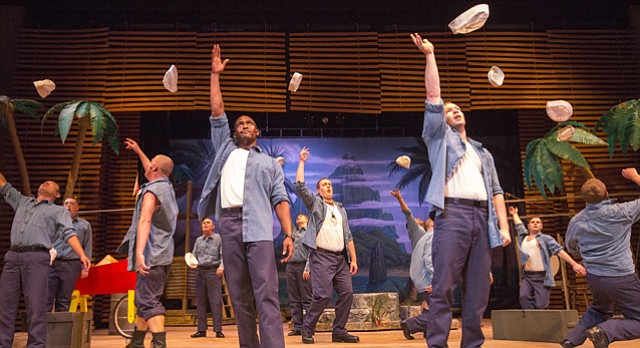 Originally published June 11, 2015 at midnight, updated June 10, 2015 at 10:36 p.m.
For Terrance McKerrs, the director of Theatre Lawrence's upcoming production of "South Pacific," listening to Rodgers and Hammerstein's classic score is like a visit from "an old friend."
"It's funny — I've been talking to Mary Baker, who's my wonderful music director, and she's telling me stories about how she and her sister used to play the record at home and pretend they were the characters and sing all the songs," McKerrs says. "Anybody of a certain age has grown up with that music."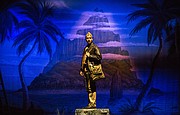 If you go
What: "South Pacific"
Where: Theatre Lawrence, 4660 Bauer Farm Drive
When: Performances are at 7:30 p.m June 12, 13, 18, 19, 20, 26 and 27, and 2:30 p.m. June 14, 21 and 28.
Cost: Tickets cost between $15.99 and $24.99, and can be purchased online or at the Theatre Lawrence box office. World War II veterans are invited to see the show for free.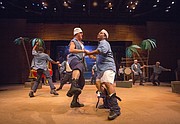 Those over 40 are sure to remember the now-standard tunes from the 1949 musical, says McKerr, but he's betting younger audiences will leave the theater humming right along with their grandparents when "South Pacific" debuts Friday evening at Theatre Lawrence, 4660 Bauer Farm Drive.

"There are a lot of young people in the show who weren't even born when that music was written, but it's so timeless that a lot of them are familiar with the music and have grown to love it, I think," he says. "Those songs are such American standards."
Though released just a few years after World War II, McKerrs says "South Pacific" — which includes favorites such as "Some Enchanted Evening," "Bali Ha'i" and "There is Nothing Like a Dame" — today remains an example of Rodgers and Hammerstein's "progressive" vision.

Set during World War II, the musical follows the lives of American servicemembers stationed in the South Pacific islands.
At its core, "South Pacific" is a show about two love stories, McKerrs says — that of Nellie, an American Navy nurse whose romance with a French plantation owner becomes complicated when she learns of his mixed-race children, and Lt. Joseph Cable, who fears the social stigma that would come with marrying his Tonkinese girlfriend.
But how those relationships unfold — whether love conquers all or succumbs to outside pressures — is steeped in racial prejudice, McKerrs says.
"These were very strong issues they were tackling at the time," he says, referencing the Nazi subplot in "The Sound of Music," another Rodgers and Hammerstein hit. "I think it was brave of them, but they never hit us over the head. We're aware of the message they're sending us, but they're sending it in a real easy way for audiences to digest."
Instead of leaving the theater "feeling down," McKerrs says audiences should find the musical's song-and-dance numbers "very uplifting."
In one of its lighter moments, Nellie (played by Erin Fox) sings the classic "I'm Gonna Wash That Man Right Outa My Hair" while actually washing her hair on stage — a move originated by Broadway legend Mary Martin in the musical's 1949 run.
"Without revealing all the tricks, I will say that it takes a lot of work," says McKerr, whose technical crew created a functioning shower for the scene. "There's real water and there's real soap. It's not like a shower you would use in your own bathroom, but it's all there and she's doing it."
Outfitting the show's actors in authentic-looking, 1940s-style Navy and Marine uniforms (about "75 percent of the clothes" in "South Pacific") proved challenging to costume designer Eleanor Patton, who says she often turned to real-life military vets in the cast for help.
Bob Newton, who plays Capt. Brackett in the show, is loaning some of his own Navy insignia to ensure authenticity, Patton says, and has consulted with her on many of the uniforms.
"I agonized over it. I really wanted everything to look good, but of course with community theater, budget is everything," says Patton, who also perused the Internet and period literature for inspiration.
She's probably most happy with her costuming of the 13 Seabees, whom she ended up dressing for about $60 a piece in matching chambray button-ups, dungaree trousers and web belts. Normally, renting out a military uniform will set you back about $100, Patton says.
While researching, Patton read a book on the Seabees, the nickname for soldiers who served in the still-active U.S. Naval Construction Forces. The men played an important role during World War II, especially in the South Pacific, where they often operated under fire and were forced to defend themselves and their building projects work against enemy forces.
"They would be the first to make sure bridges would be safe to travel on; they would build roads," Patton says of the Seabees, who also constructed airstrips, piers, housing and hospitals. "These guys were just amazing. Lots of people say they won the war for us because they made it so our troops could get to the front lines."
"South Pacific" has been on Theatre Lawrence's wish list for a long time, says executive director Mary Doveton, but staging the large-scale musical wasn't an option in its former East Lawrence location.
Now, two years after moving into a new west Lawrence, Doveton says she's excited to bring "South Pacific" to Theatre Lawrence.
For the occasion — which just happens to take place a few months before the 70th anniversary of the end of World War II — Theatre Lawrence staffers have reached out to community members for help in creating a special display of war-era memorabilia that will run throughout the production.
Local veterans and their families, as well as the Douglas County Historical Society, have donated photographs, clothing and other items for the project, which Doveton hopes will make the experience relevant for those who didn't live through it.

Doveton's own father served in the South Pacific during World War II, sending "hundreds of letters" back home to Doveton's mother, who kept them over the years. They're now part of the display at Theatre Lawrence.
"It's wonderful that people have cherished some of the things that belonged to their families, whether they're letters or uniforms or bits and pieces of souvenirs that were brought back," she says. "It's great to see what has survived, to make it a little more real to people."
The show is also free to all World War II veterans, Doveton says. She's encouraging any vets who haven't made a reservation to call Theatre Lawrence at 843-7469 for tickets.