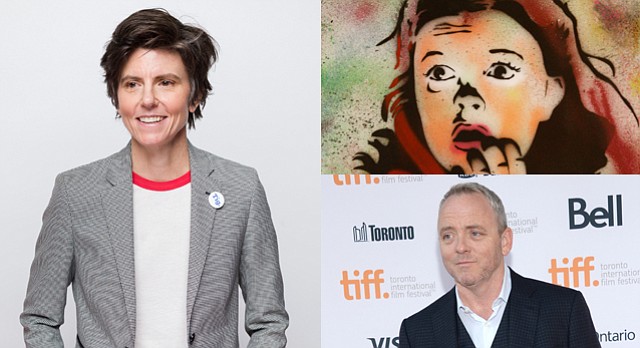 Lawrence fans geeking out over Tig Notaro, the Grammy-nominated comedian who also happens to be one of the headliners at this year's Free State Festival, have the event's artistic director — and fellow Notaro fan — Marlo Angell to thank for her appearance June 22 at the Lawrence Arts Center.
From 7:30 to 10 p.m., the Arts Center will host "An Evening With Tig Notaro," starting with a standup performance by Notaro followed by a screening of her short film "Clown Service" and a Q&A.;
"She picked out Tig Notaro as an up-and-coming star," says Sarah Bishop, Free State Festival director. "Marlo and [curator] Ben Ahlvers have such a good sense of the pulse and what's going to be hip and exciting for audiences to see."
Since securing Notaro for the festival (based on a recommendation from comedian Marc Maron, a 2014 Free State headliner), the 44-year-old comic, writer and radio personality has enjoyed a rise in visibility and critical acclaim, Bishop proudly points out.
After a string of recent successes, 2015 was a particularly big year for Notaro.
In addition to her 2014 Grammy nomination for "Live" — the recording of a 2012 Los Angeles performance in which Notaro discussed her battle with her now-in-remission breast cancer and subsequent personal struggles — Notaro was the subject and executive producer of a documentary about her life, "Tig," which debuted at this year's Sundance Film Festival.
Her comedy special "Knock Knock, It's Tig Notaro" premiered in April on Showtime, with an HBO comedy special — Notaro's first — on its way. Notaro's also keeping herself busy working on a memoir, due in 2016.
Other Free State Festival highlights:
Here are just a few of the fun and funky events scheduled for this year's festival. Check out the Free State Festival website for a complete listing and to purchase tickets.
Ideas
KU Research: Speed Dating Edition
Free State Festival organizers play "matchmaker" between Kansas University scholars and "the research nerds of Lawrence" in this quirky event, slated for 6:30 to 8:30 p.m. June 22 at the Cider Gallery.
Imitating the rapid-fire aspect of traditional speed dating, participants will have 10 minutes to ask questions and learn about each researcher's area of expertise before moving on to the next round.
Tickets cost $10, and include beer, wine and appetizers.
The Future of Newspapers
This panel discussion, scheduled for 6 to 7:15 p.m. June 25 at the Lawrence Arts Center, will explore the role of traditional newspaper journalism in a society where television, the Internet and social media are increasingly changing the way we produce and consume news content.
This event is sponsored by LJWorld.com, and Scott Stanford, general manager of the Journal-World will be among the panelists.
Visual Arts
'Rest Assured, You Are Under Video Surveillance'
Created by local artists D. Bryon Darby, Aaron Long, Cotter Mitchell and Aaron Paden, this Big Brother-esque popup art installation invites the public to contemplate "the comfort and simultaneous invasiveness of round-the-clock surveillance."
"Rest Assured" provides visitors a space to "relax" under the watchful eye of hidden cameras — concealed in man-made rocks arranged in a seemingly serene rock garden.
The project will take place at various locations, including the Lawrence Arts Center and the Cider Gallery, throughout the week of the festival. Video footage will be streamed on a screen in the Arts Center's lobby.
This exhibit is one of many during the festival addressing the topic of government surveillance and, specifically, drones.
PUB/ART Trolley
Tuckered out from all the Free State Festival events? A trolley will circulate through the Lawrence Arts District from 9 p.m. to midnight June 26-27, taking visitors on a free guided tour of the festival's public art installations while making stops at a pub or two along the way.
Those riding Friday night will see the city lit up with a one-time-only light show created by Lawrence Arts Center artists and Day Break Productions technicians. The show will take place from the AT&T; tower at 719 Vermont St.
Dun Deal
Lucas-based artist Erika Nelson will rotate her life-sized, semi-realistic stitched horse around various Lawrence locations June 26-27.
Visitors are encouraged to write on the sand-filled horse (using provided markers and paint pens) using words representing their grievances and concerns, after which they will have the opportunity to strike the horse with a stick provided by Nelson.

The ritual is meant to encourage participants to evaluate their thoughts and actions while releasing their worries.
John Sebelius and Chris Luxem
Artist John Sebelius and musician Chris Luxem (of CS Luxum fame) will team up for an "artistic experience" inspired by the 1939 classic "The Wizard of Oz" from 9 to 10 p.m. June 25 at SeedCo Studios.
The free performance combines a live painting event by Sebelius and a re-imagined cover of Pink Floyd's "The Dark Side of the Moon" by Luxem, all amid video projections of the film throughout the space.

Writing
An Evening With Dennis Lehane
The author behind acclaimed novels-turned-films "Mystic River," "Gone Baby Gone" and "Shutter Island" will discuss his work in literature and screenwriting during an author talk and Q&A; from 6:30 to 8 p.m. June 27 at the Lawrence Arts Center.
Lehane, who also penned episodes of HBO's "The Wire" and "Boardwalk Empire," made his movie screenwriting debut earlier this year with "The Drop," starring Tom Hardy, Noomi Rapace and James Gandolfini in his last feature-film appearance.
Tickets cost $15, and include admission to the VIP Networking Reception the same day at 4 p.m. at the Lawrence Arts Center.
More writing events
If literature's your thing, the Free State Festival is hosting several writing-centric events, starting with "Writing Murder, Kansas Style" on June 22 at the Lawrence Arts Center. From 7:30 to 8:45 p.m., Kansas Public Radio host Laura Lorson will moderate a panel of Kansas mystery writers that includes Alex Grecian, Susan Kraus and Julia Tollefson. The event is sponsored by Lawrence Magazine (which, like the Journal-World, is owned by The World Company) as well as the Lawrence Public Library and The Raven Book Store.
Other programs include: a Science Fiction and Surveillance panel at TownePlace Suites from 6 to 7:15 p.m. June 26; The Pleasures and Perils of Adaptation panel at Lawrence Arts Center from 7:30 to 8:45 p.m. June 25; Stage vs. Screen, a panel between playwrights and screenwriters moderated by Will Averill at noon June 27 at the Lawrence Arts Center; and a staged reading of the winner of Card Table Theatre's second annual Paul Stephen Lim Midwest Playwriting Competition, followed by a Q&A; with the playwrights moderated by Lim at 8 p.m. June 27 at the Arts Center.
Food
Foodies, take note: This year's festival features three dining-focused events. Lawrence Mixology, slated for 6 to 7:15 p.m. for June 23 at John Brown's Underground, will have participants learning the current trends in bartending from panelists Adam Clary, Kate Brubacher and Katrina Weiss. Tickets cost $25, and include cocktails and nibbles.
There's also Lawrence Eats! from 6 to 7:15 p.m. June 24 at the Lawrence Arts Center (the free event features local dining experts such as Matt Hyde of 715 and Rick Martin of Limestone Pizza) and a Free State Festival Beer Dinner from 5:30 to 8 p.m. June 26 at Maceli's Banquet Hall. Tickets to the beer dinner cost $100, and include a five-course meal of beer-based recipes by local chefs and food-beer pairings by Anheuser-Busch brewmaster George Reisch.