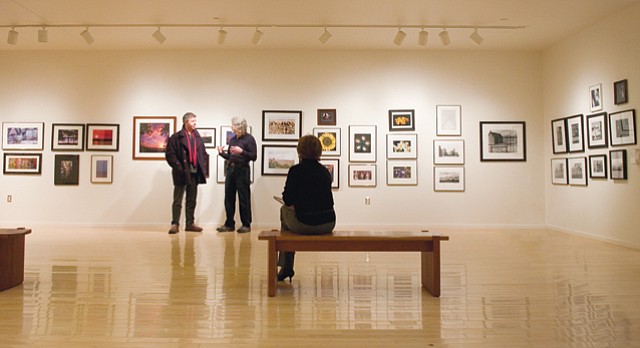 940 New Hampshire St. • (785) 843-2787
A one-stop shop for performing arts, education and exhibitions, the Lawrence Arts Center engages with the community in a number of ways. And that's probably why it has been voted Best of Lawrence 2015's best art gallery.
Ben Ahlvers, the center's exhibitions director, says as a nonprofit the Arts Center doesn't have the same limitations as a commercial space that relies on sales to keep its doors open. It allows Ahlvers to seek and display work that couldn't necessarily function in those spaces but is relevant to the community.
"We have a lot of freedom with what we can do with exhibitions," he says. "We can do a wide range of projects with a wide range of approaches to putting on exhibitions and I think that's a real asset to this organization."
At the heart of each show is the desire to always bring something new and different to the walls of the center's three galleries. From artistic medium to subject matter to the artists themselves, it's about being representative of the diverse interests of the community.
This could mean displaying paintings that are stunningly beautiful or bodies of ceramic work that are conceptually challenging, Ahlvers says.
"The bottom line and the common denominator of everything is quality," he says. "There's going to be something that's going to engage people and that can mean a lot of things to a lot of people."
---
Best of Lawrence 2015