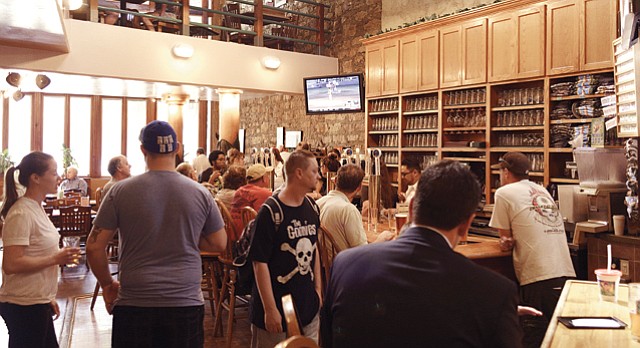 636 Massachusetts St. • (785) 843-4555
Aside from that little university on the hill, it could be argued that no Lawrence institution is as widely beloved as Free State Brewing Company.

The downtown bar and eatery has been a hit with locals since opening its doors in winter 1989, when it became Kansas' first legal brewery in more than 100 years.
"We're not solely a sports bar, and we're not solely a gastro pub," says longtime Free State owner Chuck Magerl. "We're a community gathering spot."
After more than 25 years in business, Magerl says he's still surprised by the range of customers — from college students to senior citizens — who walk through his door every day.
"I remember we had a fellow stop in who had just gotten his driver's license renewal at 82 years old, and he had just stopped in to get a beer and celebrate," Magerl recalls. "I thought that had a nice spirit to it."
With anywhere from 12 to 16 varieties of Free State brews available behind the bar, the place really does have something for everyone, says Magerl — though the Copperhead Pale Ale might just be the consistent best-seller.
Almost every beer sold at Free State is brewed on the premises, Magerl says. Customers seated at the bar can watch the process unfold in fermentation tanks beyond a glass wall a few feet away.
"I think people are continuing to look for greater flavor, greater variety and greater quality," he says. "What we've been doing here for years really dovetails with that desire to enjoy food and beer."
---
Best of Lawrence 2015