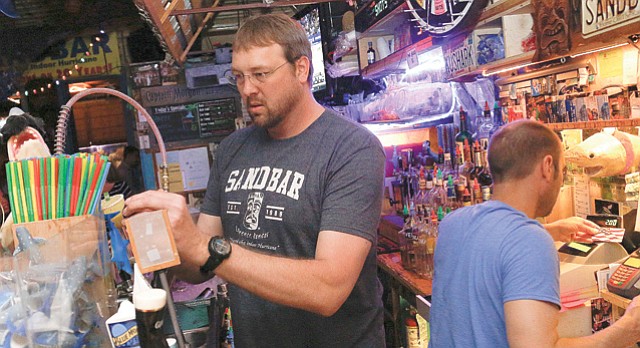 17 E. Eighth St. • (785) 842-0111
If you've ever spent one too many dollars — or brain cells — on the Sandbar's famous "shot wheel," you'll have to thank longtime bartender and managing partner Dave Johanning.
Johanning, who has spent the last two decades mixing drinks at the tropical-themed hot spot, is the creator of some of The Sandbar's most treasured traditions.
A few nights a week at 10, you'll find him facilitating indoor "hurricanes" — in which a fake newscast warns us of Neptune's rage before a high-tech vortex machine begins blowing cocktail napkins around the bar — for enthusiastic customers.
"It's probably been 15 years and still going strong," Johanning says of the admittedly cheesy stunt, which he devised with co-owner Peach Madl and her brother. "The girls still like to get up [on the bar] on their birthday and put on the mermaid costume and do a little dance."
Of course, he had already made a name for himself long before inventing his "obnoxious, flashing wheel of happiness." The 6-foot-10 Johanning played center on the Kansas University basketball team before joining The Sandbar party in 1995.
Luckily for Lawrence, he's "loved it ever since." The mix of 15-year regulars and college students keeps the job fresh, he says.
"The reason I do it is because I love people. I see that influx of new energy and new faces every year," Johanning says of working at The Sandbar. "You get to make new friends all the time. To me, that's what living's all about."
---
Best of Lawrence 2015
More like this story on Lawrence.com