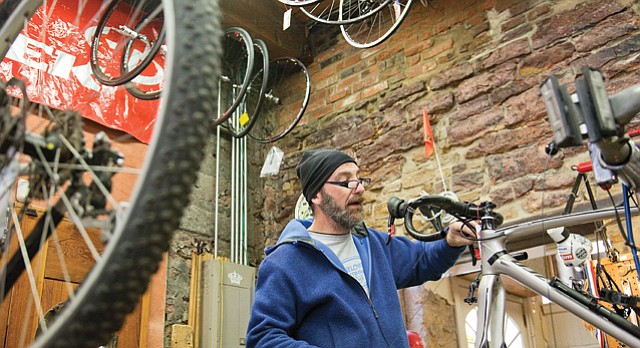 804 Massachusetts St. • (785) 843-5000
Lawrence has always been a popular city for bicycling, and the popularity of riding bikes is flourishing in the region.
"It sounds funny to say the bike business is cyclical, but it's true," says Sunflower Outdoor and Bike owner Dan Hughes. "The first big bike boom was in the '70s because of the gas shortage. Then in the mid-'80s, there was the mountain bike boom that allowed people to ride on trails."
Now many people have become environmentally conscious and are trying to find ways to reduce their pollution footprint, and cycling is one way to do that, Hughes says.
Lawrence also has become the epicenter of gravel riding, Hughes says.
On many weekends even in winter, 100-plus gravel road races are held. In April, Sunflower helped sponsor the Gravelleurs Raid 100-mile race that began and finished at Johnny's Tavern.
Hughes, who has an anthropology degree from Kansas University, began working at Sunflower in 1989 when his degree "wasn't going anywhere."
In 2000 he and his wife bought the shop.
The shop keeps a large inventory, from 600 to 700 bikes of multiple colors and various prices, "as much as you want to spend," Hughes says.
To foster a cycling community, Hughes supports efforts to produce maps of local trails and also provides workshops to teach riders how to repair and maintain their bikes.
"Lawrence is a good town for riding," he says.
---
Best of Lawrence 2015