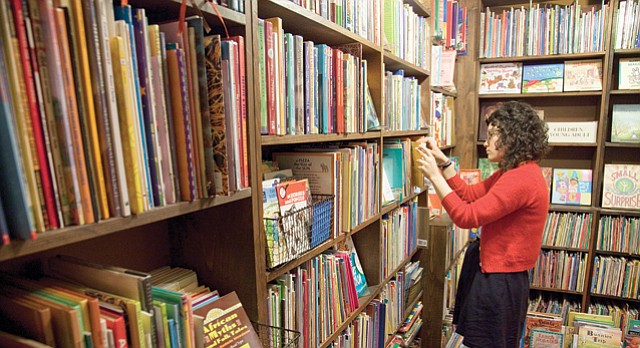 708 Massachusetts St. • (785) 749-4643
Manda Barker finds bookstores in general to be romantic places filled with surprises.
"I just think they are a comfortable place for people," says Barker who is the manager of The Dusty Bookshelf in downtown Lawrence. "I think they make people feel good. There are surprises here, and people will find things they weren't looking for."
Barker began working at the store in her junior year at Kansas University. She graduated with a degree in social services but found her calling at the bookstore.
Since 1996, customers have bought, sold and exchanged books at the Massachusetts Street location. As of January, the store's inventory was at almost 56,000 books.
For Barker, being able to exchange books is a plus.
"Recycling books is something people really appreciate," she says.
A longtime favorite at the store was a popular cat named Alice, who died last year. "The whole community mourned our loss," Barker says. However, in April, store employees went to the Humane Society to pick out a new kitty.
Dinah, named after a cat in "Alice in Wonderland," has found a new home in the bookstore. The stray is black with big yellow eyes. "She is playful and ornery," Barker says.
For now, as Dinah naps in the window, customers enjoy finding the unexpected on the store's shelves.
---
Best of Lawrence 2015
More like this story on Lawrence.com