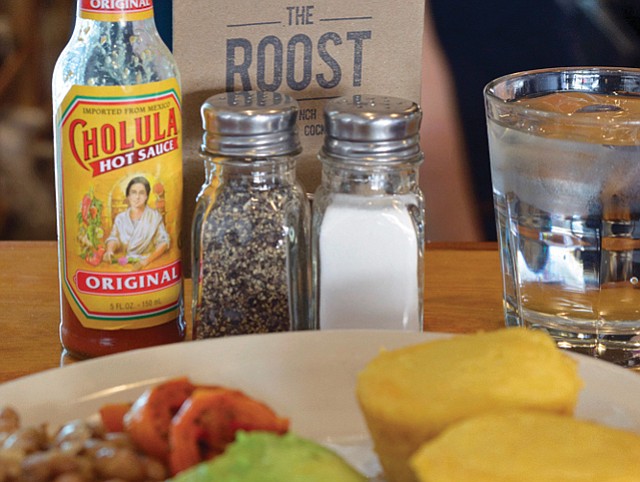 920 Massachusetts St. • (785) 843-1110
As breakfast out and weekend brunch have exploded in popularity, so, too, have out-of-the-box creations on morning menus. At the same time — perhaps with breakfast more than any other meal — the basics still reign.
The Roost tries to offer the best of both worlds.
Consistency, service, good coffee and no-fuss combos seem to be what keep most diners coming back to the Roost for breakfast, co-owner Kenny Pingleton says.
Pingleton guesses that the restaurant's best-seller is its simple "Kansan" breakfast combo: two eggs, the Roost's signature thick-sliced pecan wood-smoked bacon or sausage, toast and breakfast potatoes.
More whimsical diners can get outdoorsy with the Campfire Breakfast (eggs with cornbread and pinto beans), go south of the border with Chorizo and Eggs or channel a champagne-brunch with three kinds of "Bennys:" traditional, tomato and avocado, or smoked salmon eggs Benedict.
The Roost's made-in-house baked goods range from old-fashioned cinnamon rolls and carrot cake to jumbo handmade marshmallows and lemon-lavender cake.
One more thing that elevates a Roost breakfast from the typical diner: an array of "Collaboration Coffees" (the collaborator being the bar) and other breakfast-appropriate handcrafted cocktails, including no fewer than six versions of the bloody mary.
The Roost has popular homemade soups, salads, sandwiches and macaroni and cheese on the lunch menu, but the breakfast menu never gets taken away.
"Throughout the day," Pingleton says, "breakfast is still the biggest seller."
---
Best of Lawrence 2015