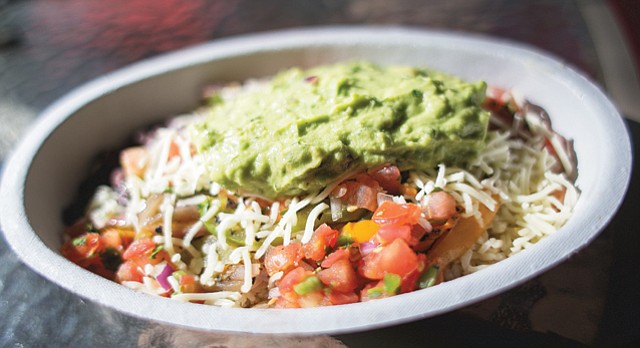 Chipotle Mexican Grill
911 Massachusetts St. • (785) 843-8800
4000 W. Sixth St. • (785) 843-1510
1420 W. 23rd St. • (785) 312-9081
In a category flooded with quick and cheap value meals, Chipotle keeps its focus on fresh food, served promptly and with exceptional customer service, says Miranda Rice, assistant manager of the Massachusetts Street location.
"It's the quality. That's what brings people back," Rice says. "Which definitely means a lot more work. Everything we make is fresh daily."
Multiple deliveries each week enable Chipotle to keep wholesome food in stock. Restaurant chefs dice tomatoes for their salsa and make their guacamole in house daily, Rice says.
"We go through a lot of both, too," she adds. "We're putting in that effort every day."
One of the most popular items on the menu is the Quesarito, a combination of a quesadilla and a burrito.
"People are still coming back a year and a half after we started," she says of the Quesarito.
One of Rice's personal favorites is one of the simplest: the crispy shell tacos.
Unlike other fast food establishments, patrons can customize their dining experience at Chipotle. Add a side of friendly employees, and the entire experience is reinventing fast food.
"You have to start from within in order to give it to other people," Rice says. "We want people to enjoy coming into work and to stay here, being happy."
---
Best of Lawrence 2015