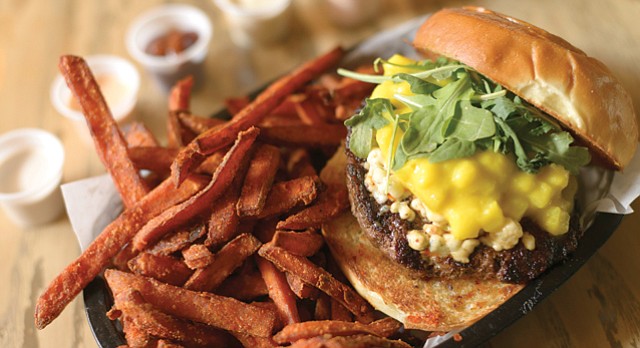 803 Massachusetts St. • (785) 856-0543
While the fries at The Burger Stand at the Casbah have become as well-known a food in Lawrence as any other, don't look past the dish that gave this downtown staple its name.
With seven burgers on the menu — the Fire, Barnyard Bash chicken sandwich, and Black and Blue iterations are fan favorites — and a catalog of specials rolling in and out, The Burger Stand continues as a local master of burger-making.
Part of the reason behind it is its relentless pursuit of tasty flavors, says owner Simon Bates. Sauces (like the habanero-cactus jam and the chipotle-cocoa ketchup) are made from scratch. Fresh-baked buns are trucked in every day from Kansas City. If the restaurant finds a better cheddar cheese to use, it'll use it without upping the price on the menu.
"We're using the highest-quality ingredients that we can, and I feel like everyone else doesn't do that," Bates says. "We put our flavors first. We want to make the burger taste better."
While the menu mainstays are enough to attract a following, The Burger Stand's specials also can get people in the door "an unbelievable amount of times" a week, says general manager Beau Bruns. Regulars will sometimes demand that a sandwich be immortalized on the menu (a few, like the catfish po'boy and the Barnyard Bash, have taken the leap).
"We'd have 600 items" on the regular menu, Bruns says, if everyone's favorite made it.
---
Best of Lawrence 2015