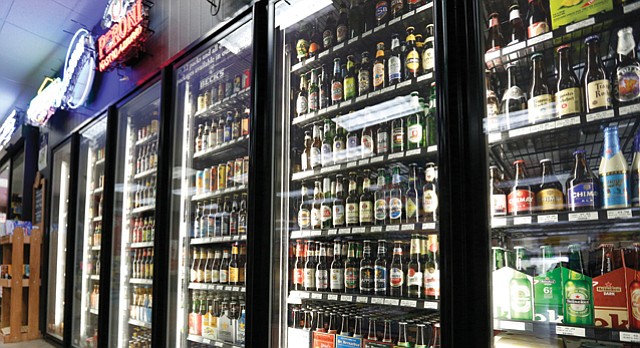 1818 Massachusetts St. • (785) 841-2337
Having won best liquor store in 2013 and 2014 and having scored runner-up in 2012, On The Rocks general manager Matt Easley attributes the store's consistent success to its "neighborhood feel with a metropolitan selection."
Easley says the store, which boasts a spacious beer cave with more than 600 types of beer, offers one of the largest selections of alcohol in Lawrence. But that's not the only thing that keeps customers coming back, he says; it's also On The Rocks' focus on customer service.
"We're being ourselves and being nice to customers, greeting them when they enter and helping to carry (their purchases) out to their cars," Easley says.
Easley says the "neighborhood feel" comes from the business' Massachusetts Street location and its loyal staff.
"Many employees have been here since we first opened, live nearby and know the customers," Easley says.
With the store's vast inventory, Easley's staff must be knowledgeable about the store's selections and be able offer advice to customers.
"A lot of people know just a little bit about what they like, and we steer people to try new things," Easely says. "We're not just selling product; we want people to really enjoy it."
---
Best of Lawrence 2015