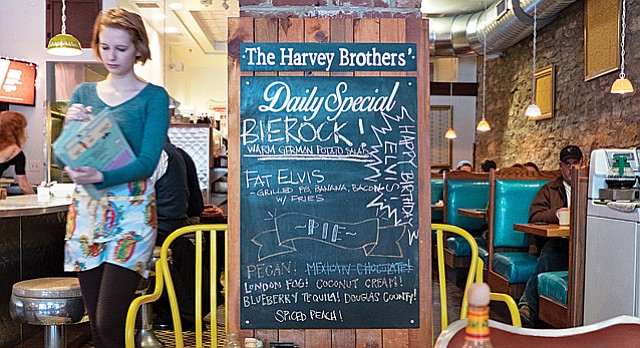 721 Massachusetts St. • (785) 856-5239
When Meg Heriford opened Ladybird Diner in August 2014, she didn't expect to see 1,000 people come through her doors on opening weekend. Heriford knew Lawrence needed a spot to get Americana-style diner food, she said, but the degree of desire is "surreal."
"This all came about as a result of pie," Heriford says, recalling the first time she had made buttermilk pie for 715, where she worked for five years as a server. "People were lining up for it. We couldn't keep it in stock, and I couldn't make it fast enough."
The momentum didn't stop there. Heriford has been churning out triple berry, coconut cream, Mexican chocolate, blueberry rhubarb and many other flaky-crusted handmade pies on a regular basis to meet the demand of customers who want it by the slice — and by the whole pie.
Ladybird Diner's from-scratch fare has garnered so many accolades it's been awarded Best of Lawrence 2015's best new business.
Heriford credits her success to the honest approach they've taken with serving up traditional nostalgic dishes inspired by different parts of the country. It's not just burgers, fries, shakes and pies, which was the menu Heriford had originally dreamed up.
"We're certainly not reinventing the wheel in there; I mean, everyone's had meatloaf before," she says. "Hopefully at Ladybird there's something for everyone that will remind them of a time when they were growing up."
---
Best of Lawrence 2015