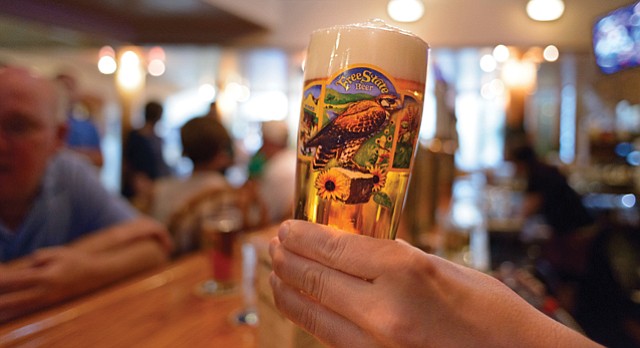 636 Massachusetts St. • (785) 843-4555
Free State Brewing Company isn't just a good restaurant — it's a Lawrence tradition.
After pushing for a change to Kansas law, proprietor Chuck Magerl opened Free State, as locals call it, in 1989 as the first legal brewery in the state in more than 100 years.
Naturally, its famous beer has remained a staple.
Free State usually has 12 to 16 beers on tap, most brewed right behind a big glass wall inside the restaurant, with a few brewed only blocks away at Free State's production plant, Magerl says.
The brews range from light and easy patio-sippers (Wheat State Golden is a go-to) to dark and brooding hard-core-beer-nerd-pleasers. IBUs, hop strains and other brewing details are available on the menu, online or in many cases from your server. Magerl says Free State has multiple staffers who have cicerone certifications (like a sommelier, but for beer).
Menu items are designed to pair well with beer and in some cases are actually made with it, such as Free State's famous cheddar ale soup. Daily specials keep dining options fresh.
Magerl says Free State aims to be part of the community through events ranging from little sidewalk concerts to the massive annual Brew to Brew race. In historic brewhouse style, Free State is a place where you can dine with a large group or make friends with other diners at the bar.
"In the ideal world, going out for food and drink is a social situation," Magerl says. "The ability to have food and drink, and service and companionship — it all works together."
---
Best of Lawrence 2015