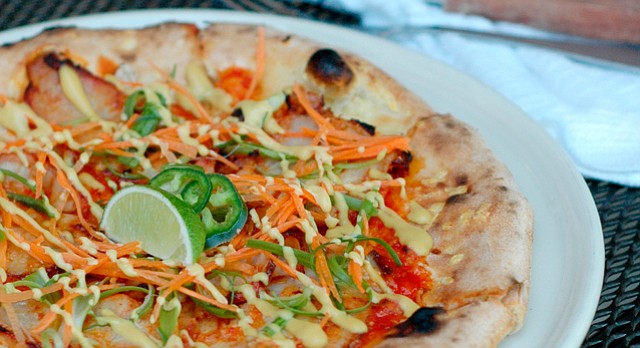 814 Massachusetts St. • (785) 856-2825
College towns are famously chock-full of pizza — fantastic pizza. But not pizza like a Neoprairie pizza.
In fact, even big cities here or abroad would be hard-pressed to claim anything quite like the Italy-meets-Midwest farmhouse pies at Limestone pizza + kitchen + bar, which opened in April 2014.
Chef and owner Rick Martin calls it "Neoprairie"; Neapolitan-style pizza, with a Kansas spin.
The Neapolitan part — a flat, from-scratch crust so simple yet so scrumptious you hardly need toppings — comes from baking the pizzas next to an open wood flame inside a 20,000-pound European brick oven the restaurant calls "Maggie." Super-high heat caramelizes toppings and tinges the crust with char.
"That develops a lot of flavor, unlike any other pizza that's just baking to melt the cheese and get the crust to rise," Martin says. "It really is amazing what 850 degrees will do to a spear of asparagus or a chanterelle mushroom."
Asparagus, chanterelles and other local, seasonal ingredients account for the Kansas spin. Martin says 54 percent of Limestone's purchases are locally sourced.
Simple combinations help those ingredients shine.
Limestone's Margherita pizza is a fan favorite, topped with tomato sauce, house-made mozzarella and basil oil. His personal favorite, Martin says, is the greens pizza. Seasonal greens — including beet tops in the fall, chard through the winter and local spinach when it becomes available in spring — top Gruyere, reduced cream and cracked pepper.
Sure, cheap, greasy, typical college-town pizza delivered after midnight is good, but Limestone pizza is a whole new category of good.
---
Best of Lawrence 2015
More like this story on Lawrence.com