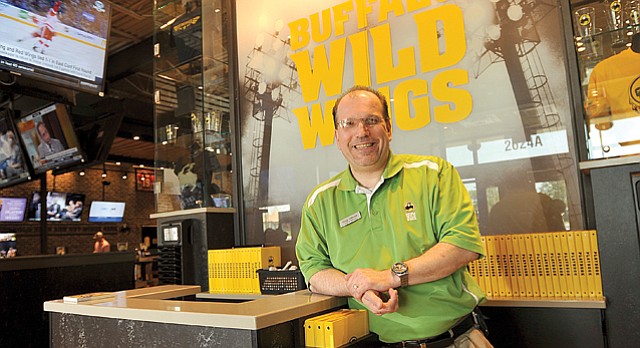 2624 Iowa St., Suite A • (785) 865-1616
If you thought Buffalo Wild Wings was a good place to watch a game at its former location, you should see it now.
The Lawrence Buffalo Wild Wings relocated from downtown to its new Iowa Street location in December, says Craig Miller, operations general manager. In addition to the menu of hot wings and beer it's always had, the new location has a lot more space.
And that means a lot more TVs for watching sports.
Buffalo Wild Wings boasts 65 TVs at its new location, Miller says. Eight of those are on the patio, which has space for 18 tables.
"There's not a bad seat in the house," he says.
Obviously, Kansas University games are a big draw at Buffalo Wild Wings. Miller says it's also a popular destination for watching Royals, Chiefs, NBA and even NHL games.
To go along with the game, the restaurant serves its signature wings — choose from 16 sauces, sweet to "Blazin'" hot — other bar and grill items and plenty of cold beer. The restaurant has Wing Tuesdays and Boneless Thursdays wing specials, plus Happy Hour from 2 p.m. to 7 p.m. on weekdays.
True to the Buffalo Wild Wings motto, Miller says, customers are there for the atmosphere: "wings, beer and sports."
---
Best of Lawrence 2015