If it grows together, it goes together.
That's the idea behind Two Tables, the new fine-dining pop-up restaurant that's located, funnily enough, below ground.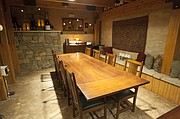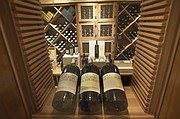 The concept, which literally houses just two large tables in the wine cellar underneath downtown's La Parrilla, 724 Massachusetts St., has acted as something of a culinary laboratory for collaborators Steve Wilson, Jamie Routledge, Subarna Bhattachan, Alejandro Lule and Armando Paniagua since opening last month.
"It's a combination of our experiences with our three restaurants," says Bhattachan, who owns La Parrilla, Genovese and Zen Zero with Lule. "And it's a chance for us to be creative — we're not bound by one particular (style)."
He's running a reservations-only operation as of now, with Two Tables partners creating and serving a different six-course menu one night every month.
With a focus on fresh and local ingredients, much of the dining experience at Two Tables is designed around wine — appropriate, considering its location.
"Being a wine merchant, we probably taste 100 wines a month. There's always something new and interesting to discover," says Wilson, who runs City Wine Market with Routledge — who also consults on Two Tables' wine menus with Wilson — in west Lawrence. "This is a stage for that."
In the late 1990s, Wilson purchased the space that would eventually become Two Tables. He ended up gutting the place, transforming it from a nondescript basement that once belonged to a furniture store into his personal wine cellar, where he would often bring visiting family and friends for special occasions.

When Bhattachan purchased the building from Wilson in 2013 to open his new La Parrilla location at 724 Massachusetts St., Wilson remained involved by leasing the wine cellar from Bhattachan and eventually, leasing it to the Bhattachan for private (mostly invitation-only) dinners there.
"People seemed to really like it, so we thought we'd open it up the public," Bhattachan says.
Each tasting menu — which can accommodate allergies and other dietary restrictions, Bhattachan notes — costs $85. Guests have the choice to opt out of the additional $35 wine pairing, but they may be missing out, Wilson says.
"Most wines grew up with food," says Wilson, referring to the centuries-old varieties that were created with specific foods in mind. "So oftentimes when people are tasting wine, they're not getting the full picture because they're not tasting the food the wine grew up with."
Bhattachan, who plans on using more locally raised "wild game" like bison and elk, says Two Tables is all about "the trust factor" between customers and the chefs.
So far, folks seem to trust what the Two Tables crew is cooking up, with word of mouth and social media generating interest from Lawrence's more "adventurous" foodies, he says.

There are three more planned dinners on the horizon, one at 8:30 p.m. Friday and others at 6:30 and 8:30 p.m. July 17. Beyond that, Bhattachan says he's not sure, but he wants to take things slowly.
"We'll see how our guests respond," he says. "If it goes well, then we'll probably do it more than once a month."

More like this story on Lawrence.com