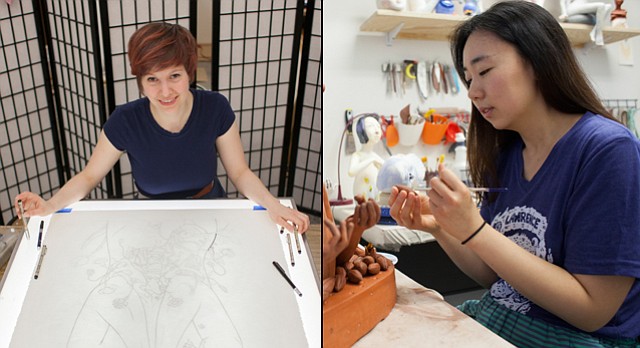 Lawrence Arts Center artists-in-residence Gunyoung Kim and Tonja Torgerson have spent the last year teaching classes, participating in community outreach programs and creating bodies of work that will be shown exhibitions at the Lawrence Arts Center throughout this month and the next.
In a departure from previous years, their exhibitions will be held concurrently, with Kim's shown in the Arts Center's front gallery and Torgerson's on display in the middle gallery.
Both shows will open with a reception Friday from 5 to 9 p.m. at the Lawrence Arts Center, 940 New Hampshire St. The artists will also give an Insight Art Talk at 7 p.m. July 9, also at the Arts Center.
"We're experimenting a little bit," says Ben Ahlvers, the Arts Center's exhibitions director, adding that staffers are making changes to each gallery space to complement the artists' work. "I think they're excited to have their reception the same night."
'Inner Sifting'
"All that glitters is not gold."
It's a well-known saying that, in its most popular form, can be traced back to Shakespeare's "The Merchant of Venice," and may even have roots in Aesop's fables.
It's also a major theme in "Inner Sifting," Gunyoung Kim's upcoming exhibition at the Arts Center. By her count, all 14 of the human figures Kim created for the show feature hints of gold leafing.
"We think of gold as valuable because we've learned that it's valuable and we're told that it's valuable, and it looks valuable, because it's shiny and glittery. But at the same time, that doesn't mean it's valuable," Kim says. "I've started using gold with that idea in mind — What's really important? What's valuable?"
Kim, who grew up in South Korea and studied ceramics at Kookmin University in Seoul before eventually earning her master's degree in the same discipline from Ohio State University, has explored a similar concept throughout her career.

Much of her work examines the struggle between our true natures and what we project to the rest of the world, often through facial expressions, disfigurement, staging and gestures.
For "Inner Sifting," Kim would often snap portraits of folks around the Arts Center (students, visitors, staffers) and her church in North Lawrence, asking each participant a question like, "What do you think of the word 'believe'?" Later, she'd "capture" those expressions of contemplation in her pieces.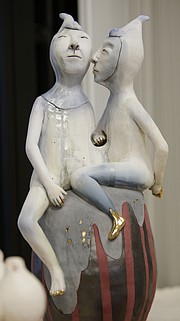 "They're thinking, 'What's valuable?' They're not happy or sad," she says of the figures. "They're in the process of thinking, 'Is that right?'"
Kim's first year in the United States was marked with internal turmoil, as the college student experienced the homesickness and cultural differences that come with living in a foreign country.
"On the outside, I'd tell people, 'I'm fine,' but when I was alone, I was struggling with my emotions," she says, relating that emotional disconnect to her art. "It's like my ideas fit perfectly with ceramics, because when you build it, it looks solid, but it should be hollow. So there's always this inner space or emptiness inside."
These days, she's feeling more attached to her adopted home, perhaps thanks in part to Lawrence and its "friendly people" — Kim says it's her favorite city she's visited in the U.S. so far.
Kim's parents are visiting Lawrence next week (it's their first time in the states) to see her show, after which they'll accompany their daughter on a trip through the Great American West. Among the highlights: Seattle and the Grand Canyon.
After that, Kim will undergo a fall residency at the Archie Bray Foundation for the Ceramic Arts in Helena, Mont. But she'll return to Lawrence in time for the Arts Center's Ceramics Symposium in the fall, she promises.
"I'm sad to leave, but at the same time, I'm excited for the new adventure," Kim says.
'Memento Mori'
Growing up on a farm in northern Minnesota, Tonja Torgerson was constantly surrounded by wildlife.
If you go
What: Opening reception for "Memento Mori" and "Inner Sifting" exhibitions by 2014-2015 Lawrence Arts Center artists-in-residence Gunyoung Kim and Tonja Torgerson
When: Friday from 5 to 9 p.m.
Where: Lawrence Arts Center, 940 New Hampshire St.
Cost: Free
She ended up leaving her country home at age 16 to attend the Perpich Center for Arts Education in the Minneapolis suburbs, and has since lived and worked in urban areas — studying studio art at the University of Minnesota and later getting a master's degree in printmaking at Syracuse University.
But nature — its inherent beauty as well as its more unpleasant realities — seemed to stick with her over the years.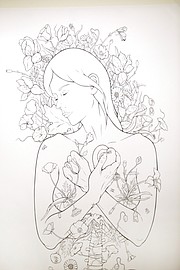 Much of her work — including the prints, drawings, and books and photography documenting her public art projects on display in her Arts Center exhibition — is inspired by what Torgerson calls "the temporary quality of our bodies."
"This work in the show is going to be much more directly about death," says Torgerson, who will remain at the Arts Center as a printmaking fellow once her residency ends next month. "I think previously, my figures have been all about coping with illness and trying to put on a good face about it, but these figures are much more accepting of that fate."
Meaning "remember (that you have) to die" in Latin, "Memento Mori" is a reflection of Torgerson's fascination with art history, which she minored in during her undergrad years.
For the exhibition, she's created a series of pen-and-ink drawings that she's calling "Vanitas," a form of symbolic art popular in the Dutch Golden Age that used still-life paintings to communicate the futility of earthly goods and desires.
Rachel Ruysch, a prominent Dutch painter who was one of the few working female artists of the era, inspired Torgerson's "Vanitas."
"There'd be all these beautiful still-lifes of flowers, but they'd be slightly tarnished or slightly broken, and it was supposed to remind you that all of the beautiful things in life are temporal," she says of the art form, which is echoed in her own "Vanitas" through decaying human bodies covered in blooming flowers and corpse-eating insects.