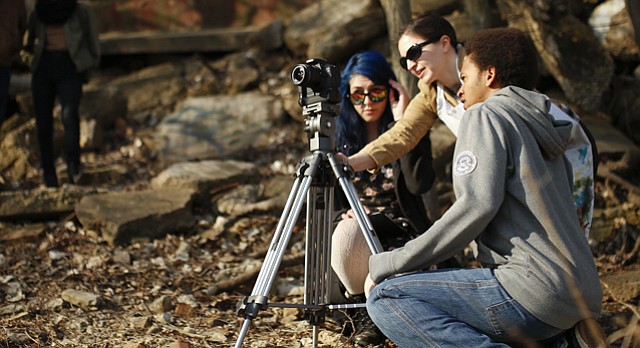 Cristy Sheppard has a long-held fascination with YouTube and how its so-called "YouTubers" have managed to build careers out of creating and posting videos to the content-sharing website.
So, when the 21-year-old heard about the Free State Festival's Education Outreach program, she jumped at the chance to participate — if only to gain basic video-editing skills.
"I didn't really have an interest in filmmaking," says Sheppard, who was one of about 20 young people from Van Go, Inc. and the Boys and Girls Club of Lawrence to participate in the second-annual project, which guided students in a five-month crash course in film production. "I did enjoy learning the ins and outs of what it takes to be a director and the person behind the camera" by the end.
Along with partner Kyra Copeland, Sheppard juggled all aspects of filmmaking — from screenwriting to cinematography to sound recording, editing and sound design — to create her first short film, "Casual Encounter."
Now, Sheppard will show the results of her hard work Friday evening at the Lawrence Arts Center, where all seven films created during the project will be screened at the Free State Festival's Outreach Film Showcase.
If you go
What: Outreach Film Showcase
When: Friday from 6 to 7 p.m.
Where: Lawrence Arts Center, 940 New Hampshire St.
Cost: Free
Funded by a grant from the National Endowment for the Arts, the program is led by Marlo Angell, who studied film at the University of Southern California and serves as the Free State Festival's artistic director of film and performance.
From January to May, Angell — with support from Van Go staffers — guided students, ranging from sixth-graders all the way up to young adults, through twice-a-week classes in digital filmmaking.
The idea, she says, was to let each pair of fledgling filmmakers tell their own stories through five-minute silent films — a good jumping-off point for those just starting out in movies, she says.
"I think short films are little slices of life. They're such an important contribution to the cinematic landscape," Angell says. "You can really hone in on what it means to tell a story visually."
Angell, who also supervised last year's Education Outreach project, says she's continually "surprised and impressed" by the quality of the films, most of which were produced by teenagers with little to no prior experience.
http://www.youtube.com/watch?v=xJEgIcKNwu4&feature;=youtu.be
For her, much of the fun comes from witnessing her students gradually become more confident with the technical aspects of filmmaking, which she says can be intimidating at first.
It's like watching your child finally remove the training wheels and ride off on a bicycle, Angell says of the young filmmakers, who are now "completely comfortable shooting their own B-roll and going off on their own with their camera."
Even if her students don't end up working in movies, Angell says she knows they've learned lessons that will serve them well in the real world.
"Film is such a collaborative art form," Angell says. "It enables you to be able to receive constructive criticism and give it, which is a real skill in filmmaking and out in the job market."
Additionally, she worked with Van Go's Arts Train Apprentice Artists (young people aged 18 to 21) to produce a documentary about the nonprofit's alumni, which will also be screened during the showcase.
Ethan Ward, whose supernatural time-traveling flick "Justin Tyme" will debut Friday, is helping to finish that documentary now.
After wrapping "Justin Tyme," which he produced with fellow Van Go apprentice Luke Pierce, the 19-year-old started working as an intern (he says Angell calls him her 'production assistant') for the Free State Festival.
He's a little nervous about showing his film at the festival — which also features work from more established industry professionals like Tig Notaro and Jon Ronson — but Ward says seeing the final cut of "Justin Tyme" last month among his peers has given him confidence.
"We watched it as a huge group with a lot of the staff at Van Go, and seeing their reactions made me realize we did a lot of things pretty well," says Ward, who also wrote and produced the film's score with Pierce. "It made it seem not just like a little amateur film, but something better than that."