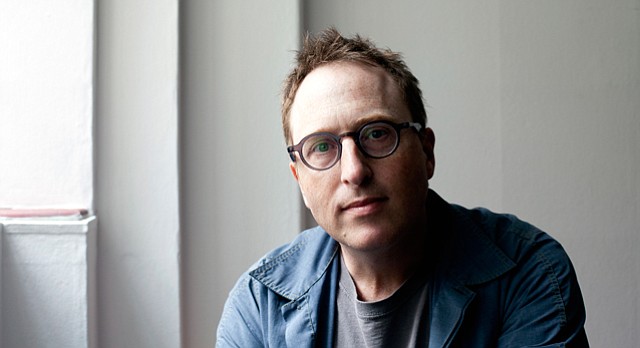 Journalist, author and documentarian Jon Ronson said Tuesday night there have been three moments in his life where something in his brain clicked: When he became a vegetarian, when he quit smoking and when he turned off social media.
Twitter, like smoking, "is just coughing and feeling like crap," Ronson told the crowd at Liberty Hall, 644 Massachusetts St., where he spoke as a part of the Free State Festival, which continues Wednesday.
Throughout his hour-long address, Ronson spoke of his 17-year-old son who will soon leave home for the first time, his keen ability to spot psychopaths, adventures with real-life and relatively-narcissistic vigilantes, and his own investigative look into the world of conspiracy theorists, among other topics.
Most prominently, Ronson spoke of his latest book, "So You've Been Publicly Shamed," and his observations on the world of social media.
Through the wonder and power of the Internet and the spotlight that only social media can provide, the masses have lost their empathy, Ronson said. And on a platform like Twitter, where even the most innocuous comments can quickly be taken out of context, one must proceed with caution.
While offenses deserving of punishment are made on social media, much of the justice is "disproportionate" to the crime, Ronson said. What began as a thirst for "social justice" has become a witch hunt where "a day without a shaming felt weird and empty."
In reality, most people are neither villains nor saints, and many instances of public shaming lack both context and humanity, Ronson argued.
Although discussing serious topics, Ronson had the audience rolling in laughter for much of the evening. After his address, he took questions from the audience and signed books for his fans. Later, the hall hosted a screening of the film "Frank," for which Ronson co-wrote the screenplay.
Scrambling down from Liberty Hall's balcony, Crystal Yakel made her way to the front of the line for Ronson's book signing.
"He was amazing and wonderful," she said. "I hadn't laughed that hard in quite a while."
A teacher in the Kansas City, Kan., public school system, Yakel said she is planning on bringing some of Ronson's lessons into her classroom, cautioning her students on the use of social media.
"They're allowed to have fun and find things funny," she said. "But it's important to respect people and their humanity."
Cindy Maude said she also appreciates Ronson's writing, but she's thankful he was willing to take a step back and encourage others to err on the side of compassion.
"He's still funny," she said. "But he digs deeper into people and I respect that a lot."