Former U.S. Poet Laureate Natasha Trethewey will speak and read from selected works at 7:30 p.m. Tuesday at Woodruff Auditorium in the Kansas Union.
The event, titled "Poetry and History: An Evening with U.S. Poet Laureate (2012-2014) Natasha Trethewey," is free and open to the public.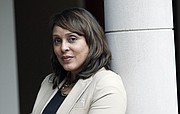 Sally Utech, associate director of the Hall Center for the Humanities, helped organize Trethewey's visit, which is part of the Hall Center's 2014-2015 Humanities Lecture Series.
"Her poetry deals with themes of class, race and gender. It's a very American experience," Utech says of Trethewey. "It's not just about having a famous poet here — it's about having someone who can open up a dialogue that we should be having anyway as a society."
Trethewey is the author of several works, including 2012's "Thrall," an examination of historical representations of mixed-race families, and "Native Guard," for which she won the 2007 Pulitzer Prize.
In addition to her work as Poet Laureate, Trethewey has also received fellowships from the Guggenheim Foundation, the Rockefeller Foundation and the National Endowment for the Arts, among others.
In addition to Tuesday's event, Trethewey will participate in a less formal discussion at 10 a.m. Wednesday in the Hall Center Conference Hall.
"The conversation gives people an opportunity to ask their own questions in a very intimate environment," Utech says.
Also free and open to the public, the event will last about 90 minutes, Utech says. She says encourages everyone to attend, even those who can't stay the full length.
"We understand that 90 minutes in the middle of the morning can be a lot for people to commit to," she says. "It's very welcome for people to come and go as they need."