If talking about race makes you uncomfortable, it may be time to ask yourself why.
That's the idea behind Theatre Lawrence's current production, "Clybourne Park," which opened Friday and is being staged in conjunction with "A Raisin in the Sun" at Kansas University's Crafton-Preyer Theatre.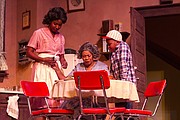 If you go
"A Raisin in the Sun" and "Clybourne Park" will play on the same dates through March 8. Customers can purchase tickets for both shows at a discount price of $35 at the KU Theatre and Theatre Lawrence box offices. For more information, including a show schedule, visit theatrelawrence.com and kutheatre.com.
Written by Bruce Norris in response to playwright Lorraine Hansberry's 1959 classic, "Clybourne Park" examines race, real estate and the American Dream, all while providing some darkly funny moments, says director Piet Knetsch.
"It's kind of that humor where you catch yourself laughing and you think, 'Oh my God, I shouldn't be laughing at that,'" Knetsch says. "It's very intentional, and I think he tried to shock us, if you will, into a sense of awareness about ourselves — the way we judge each other, the way we interact with each other."
Act I unfolds as a white family moves out of their Chicago house to make way for its new owners — a black family called the Youngers who happen to be the neighborhood's first.
Act II revisits the area 50 years later as a young, white couple plans to tear down the house and rebuild it. In 2009, after going from predominantly white to predominantly black, Clybourne Park is experiencing new changes in the form of gentrification.
The script presented a challenge for Knetsch and his seven-person cast, in that it requires each actor to play dual roles — one in 1959, the other in 2009.
"In some respects, unfortunately, not very many things have changed in that time," he says of the 50 years between acts. "For example, when it comes to how communities are formed or how communities become isolated to a particular race of people. I think in a way Norris reinforces that by using the same actors."
Norris, who won a 2011 Pulitzer and a 2012 Tony Award for his work, first read "A Raisin in the Sun" in school.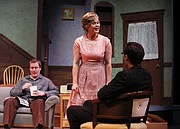 At the time, as a kid growing up in 1970s Texas, he more easily identified with Karl Lindler, the man who unsuccessfully attempts to buy the Younger family's recently purchased house to keep them from moving to his all-white neighborhood.
Lindler is the play's sole white character. And its antagonist.
"Bruce Norris has said he's writing to white audiences, asking them to think through what it means to have white privilege to some degree, and I think that's pretty powerful," says Nicole Hodges Persley, who is directing KU's "Raisin" production. "And what does it mean to be on the other side when you're not afforded that privilege?"
When "A Raisin in the Sun" premiered at New York City's Ethel Barrymore Theatre in 1959, it made history as the first play written by a black woman to be produced on Broadway.
Hansberry later noted how the drama introduced a realistic and complex picture of black life to overwhelmingly white Broadway audiences.
Beneatha Younger, its protagonist, is a woman who in 1959 "doesn't exist yet within the black community," says Persley. An aspiring doctor and budding feminist, Beneatha struggles to find her place in a society where ideals like hers are just starting to emerge on the national level.
"In the '50s, you have a rise of black leaders and literary figures who are saying that African-Americans have a right to construct themselves in the way they actually live, not the way that dominant society has constructed them," Persley says. "That's an interesting place to be, especially when there are so many African-Americans are striving toward success, and success is equated with a certain type of representation of blackness that may or may not coincide with how Beneatha's feeling at the moment."
The play, as well as its 2010 companion piece, was inspired by true events from Hansberry's childhood.
In 1938, her father, a successful real-estate broker, bought a house in Chicago's Washington Park neighborhood. Legal efforts by white residents to force out the Hansberry family reached the U.S. Supreme Court in 1940.
The case, which ruled in favor of Carl Hansberry, became "one of the precedent-setting cases for anti-segregation legislation," says Persley, who is also an assistant professor and the director of graduate studies in theater at KU.
More than 50 years after its debut on Broadway, "A Raisin in the Sun" remains a relevant piece of social commentary. The decision by Walter Younger to move his family to Clybourne Park — despite the treatment he faces from white neighbors — is a courageous one, Persley says.
That's because the young man realizes his dream is about something greater than himself. It's also about his family and community.
"If we can think more along those lines, maybe we can do more to effect social change on a micro level," Persley says. "It doesn't always have to be these big, giant things. It can be just these little gestures and steps toward change that get us there."