There's nothing like a hot, literally steaming glass of wine on a chilly winter day.
That's how the poached-pear mulled wine arrived at our table during a recent trip to John Brown's Underground, with gaseous water droplets still swirling around the rim. That imagery, coupled with the earthy, spicy smell that permeates the tiny basement bar, makes for a pretty dramatic presentation.
As for the drink itself, it doesn't disappoint.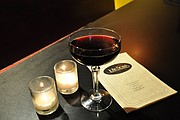 The elegant cocktail starts with a house-made simple syrup of rosemary, cardamom pods, cinnamon sticks, cloves, nutmeg and orange zest. Let that stew away for a while, then add pear cognac, dry Italian red wine and a little ginger liqueur. Steam and enjoy.
Bar manager Kate Brubacher dreamed up the poached-pear mulled wine during a recent craving for poached pears. She's been serving it up on wintry days at John Brown's Underground for about three weeks now, and says they'll continue to offer it as a special whenever temperatures get chilly — "even on a random cold night in July."
The hard stuff: Dry Italian red wine, Belle de Brillet pear liqueur and The King's Ginger liqueur
Where it's served: John Brown's Underground, 7 E. Seventh St.
What you'll pay: $10
Other libations at this location: Lots of speakeasy-worthy cocktails like the classic martini, Rob Roy, Sazerac and of course, Prohibition Punch made with house-infused rum, citrus and "barkeep's secret." Wonder what that could be?
— Drink up. Stay classy. Don't forget to tip your bartender. And let us know if you want to suggest a libation for this feature — email jhlavacek@ljworld.com or Tweet her at Twitter.com/hlavacekjoanna. Cheers.
More like this story on Lawrence.com