Name: Dhari Alanazi
Age: 21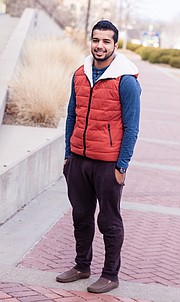 Hometown: Saudi Arabia
Time in Lawrence: Three years
Relationship status: Single
Occupation: I'm a chemical engineering student (at KU)
Dream job: I'd like to be a teacher one day.
What were you doing when scouted? Heading home
Describe your style: I love the color blue, all shades of gray as well as khakis and jeans in general. My style is quite colorful, classic and simple.
Fashion trends you love: I like simple clothing pieces that are comfortable. I don't like complicated stuff. I also like suits and watches like Fossil.
Fashion trends you hate: Wearing sportswear to class all the time. It's comfortable but sometimes it's not appropriate.
Fashion influences: Back home, I'm influenced by my brothers. My cousin influenced my hairstyle. But, overall, I just know what I like. I do get some of my stuff from Hollister or Abercrombie (& Fitch).
What would you like to see more or less of in Lawrence? More shops and social venues. Less construction, maybe.
Tattoos or piercings: None.
Whom do people say you look like? My friends say Brad Pitt but I know it's just a joke.
What type of music do you like? Arabic music
Tell us a secret: I like to take nice walks at night by myself.
More like this story on Lawrence.com