Name: Qing Tian
Age: 18
Hometown: China
Time in Lawrence: About a semester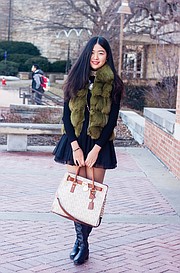 Relationship status: I have a boyfriend.
Occupation: I'm studying computer science (at KU).
Dream job: A computer engineer
What were you doing when scouted? Heading to class
Describe your style: In high school, I used to wear a lot of sports styles. But since I'm at the university now, I try to dress like a young lady. I like to wear dresses and skirts.
Fashion trends you love: I like colors like red and black. I like clothing items that I am wearing now.
Fashion trends you hate: I think everyone has their own style. I think what is important is to be clean and to try not to be too casual (dress-wise) all the time.
Fashion influences: Websites like Neiman Marcus
What would you like to see more or less of in Lawrence? Lawrence is a peaceful place. It's hard to say! I think everyone has their own opinion but I love Lawrence.
Tattoos or piercings: None
Whom do people say you look like? Some Korean or Chinese star. I don't think so!
What type of music do you like to listen to? R&B;
Tell us a secret: I can take up to 45 minutes to do my makeup.
More like this story on Lawrence.com