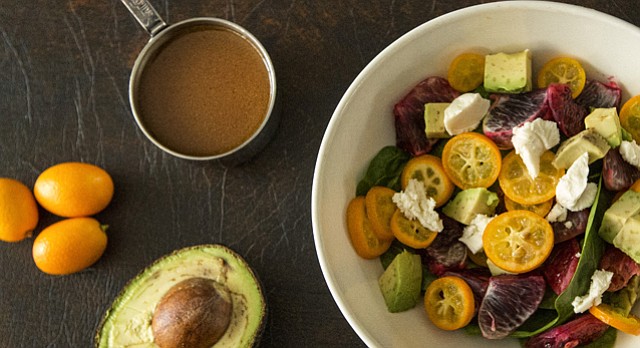 Sweet, sour and possibly the tartest fruit this side of a lemon, the kumquat is a bite-sized, seasonal winter citrus.
They aren't common, but they pack an uncommon punch. Just a handful provide close to a day's worth of vitamin C — and you don't even have to peel them. Just wash, eat and pucker up.
Delicious
Sarah suggested kumquats, and I had to admit I knew almost nothing about them. I mentioned to a friend that I'd be cooking with them, and he mentioned that his grandma had made some sort of carrot relish with them. All of that orangeness sounded pretty good to me, not to mention extra healthy. I knew the kumquats were rather sour, and I thought maybe the earthiness of carrots would provide nice balance.
I can't get enough of ginger in anything, and I am very into sauces of all kinds — on meat, bread, vegetables, everything. So I thought a little gingered kumquat and carrot chutney might be a really nice thing, and indeed it was.
It came together quickly with the help of my food processor, which is a key part of my kitchen. I highly recommend investing in a good one.
Gingered Kumquat and Carrot Chutney
Ingredients
1 pound kumquats, quartered
1 1/2 cups grated carrot (done in nanoseconds in the Cuisinart)
1 cup sugar
Juice of 3 clementines
1 tablespoon grated fresh ginger
1/4 teaspoon black pepper
1/8 teaspoon salt
Directions
Once you have your carrots and kumquats chopped, just add them to a medium-sized saucepan with the other ingredients over medium heat and stir occasionally for about 10 minutes. Then lower the heat and simmer for another 10 minutes.
This would go great on pork as a marinade or a sauce after cooking. I ate it with garlic toasts as an afternoon snack.
Nutritious
I love tart foods. Loooove. So, kumquat season is super exciting to me — they're basically nature's Sour Patch Kids.
Once I realized they were pucker-worthy little packages of sweet-sour juice, I was down for them. Even better: you don't need to peel them.
One ounce gives you 20 percent of your daily vitamin C for 20 calories, no fat, 2 grams of fiber. Not a bad trade off, I think.
Now, they are very, very tart. I'm not going to lie, it's hard to just pop them in your mouth without immediately regretting it.
So, it's good to start with them in little slices, just like we have in this salad. Plus, the slices are pretty much the closest you can get to calling a food adorable.
I've paired those adorable little slices with sweet and pretty blood oranges, creamy and satiating avocado and goat cheese, and put it all on a bed of spinach. Top it with a similarly sweet and sour vinaigrette that also includes kumquats and blood oranges, and enjoy the tang.
Kumquats and Blood Orange Winter Salad
Ingredients per salad:
1 1/2 cup spinach
1/4 cup kumquat slices (about 6 kumquats), unpeeled
1/2 large blood orange, cut into sections and then sections halved
1/2 avocado, cubed
1 ounce crumbled goat cheese
Kumquat-Blood Orange Vinaigrette (recipe below)
Layer ingredients in a bowl. Top with vinaigrette immediately before serving.
Kumquat-Blood Orange Vinaigrette
1 blood orange, juiced (about half a cup)
1/4 cup olive oil
10 kumquats, juiced (just slice them in half and squeeze)
1 teaspoon Dijon
1 teaspoon honey
3 teaspoons (or 1 tablespoons) balsamic vinegar
Whisk all ingredients together except olive oil. Once everything else is combined, add olive oil slowly while whisking. Serve immediately.
Note: The extra will stay good in the fridge for a week, but you'll have to get it to room temperature before eating it because the olive oil (the real stuff!) will solidify once it's cold for long enough.
— Megan Stuke (Delicious) is a working mom, a practical cook and an impractical hostess. Sarah Henning (Nutritious) is a writer, blogger, vegetarian and mom.