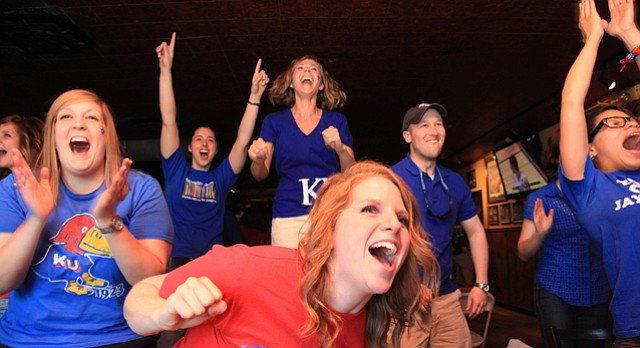 Wednesday, March 11, 2015
Whether you're a die-hard fan or a casual viewer, it's hard to avoid the craziness of March Madness here in the (sort of) birthplace of basketball. Lawrence has no shortage of venues to watch the action unfold. From the low-key to the kid-friendly to the downright rowdy, it's not hard to find a spot to watch a game that meets your needs.
If you want a lot of screens...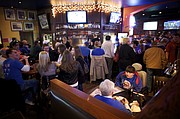 Even the most height-challenged basketball fans shouldn't have trouble catching a glimpse of the action at Johnny's Tavern West, 721 Wakarusa Drive, as the sports bar boasts 26 high-definition TVs.
All those screens, coupled with its varied selection of burgers, specialty pizzas and beers, helped Johnny's snag "Best Place to Watch a Game" in Lawrence.com's 2012 Best of Lawrence contest.
If you want a BIG screen...
The same goes for Liberty Hall, 644 Massachusetts St., where spectators can cheer on the Jayhawks for free on the theater's two-story screen.

"There's no struggle seeing the screen," says Liberty Hall video store clerk Sarina Geist. "No matter where you are, you're going to be able to see it."
Games will be screened in big theater, with seating on the ground floor (tables and chairs will be set up) and up in the balcony.

Resist the urge to sneak in outside food or drink — like all movie theaters, Liberty Hall doesn't allow such practices — but load up on treats at the concession stand instead.
"Just a PBR and a popcorn, and you're pretty good," Geist says.

Check libertyhall.net or call 749-1972 for more information.
If you want to watch a game outside...
There's something about watching the games "al fresco" that adds a touch of class to March Madness, such as at a place like Harbor Lights, located at 1031 Massachusetts St.
The bar added a second story to its outdoor seating area a few years ago, offering plenty of room to drink, eat and "be rowdy," says bartender Hanna Gentry. This is a dive bar, after all.
"Especially if the weather's nice, the patio's an awesome place to watch a game," Gentry says. "During KU basketball season, it's the complete hometown feel of being here."
The place tends to attract a younger crowd — "a lot of mid-20s local people mixed with college kids," Gentry says — but everybody comes together to celebrate the Jayhawks. It's a common to see folks down rally shots when "things aren't going well."
Harbor Lights doesn't serve food (customers are encouraged to grab a slice at neighboring Pyramid Pizza or Papa Keno's) but jars are a must, Gentry says.
"They're big glass jars," she says of the drink, which contain 32 ounces of domestic beer at $4.75. "You feel crazy drinking them."
Given that it's March Madness, the idea doesn't sound so crazy to us.
If you want to get rowdy...
Despite being known as Lawrence's sole "football" (aka American soccer) pub, the Red Lyon Tavern (located at 944 Massachusetts St.) remains a popular spot during basketball season. That's especially true once March Madness arrives, when patrons squeeze in between the beer-memorabilia-covered walls.

It's a "rowdy" crowd, but an intimate one, says bar manager Chris Neverer.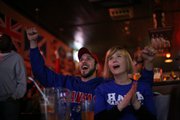 "I'd say it's a mix between nervousness, anxiousness and excitement," Neverer says. "People definitely get more and more animated the further the season goes on."
Customers can bring in food (Red Lyon doesn't serve any, except for free baskets of popcorn) or order up a drink. Neverer recommends the Jameson Ginger, a $6 cocktail made with Jameson whiskey, house-made ginger syrup, bitters and soda water.
He also recommends arriving early. Seating at the Red Lyon is first come, first serve.
If you want to keep it low-key...
Those who claim only the most casual basketball fandom will find kindred spirits at Henry's Upstairs, 11 E. Eighth St., where staffers pull down a 5-by-8-foot projector screen for big games.

The bar is perfect for "last-minute" planners because it never gets "crazy crowded," says manager Matt Geier, who counts four TVs including the projector scattered among the rooms.
"It's definitely more low-key, a normal Henry's feel," he says. "At bigger games, there's probably 20 or 30 people."
While you're there, sample one of Henry's signature drinks: the White Russian, the Horsefeather (both $5) or a Sangria ($4).
If you're looking for more than bar food to snack on…
Free State Brewing Co., 636 Massachusetts St., only has two TVs situated around the bar, but that doesn't stop a devoted group of 60-some KU fans from gathering at the eatery every year for March Madness games.
Sure, things can "become a little raucous," but the place still retains a family-friendly atmosphere, says Alex Hamilton of Free State Brewing Co.
"It's not a smoke-filled bar like days of old. You'll see families come in," Hamilton says. "It's fun — they can enjoy their fish and chips and black bean quesadillas and Ad Astra Ale and watch the game."
The restaurant is also hosting its 18th annual March Mustard Madness, with a variety of mustards on hand from the National Mustard Museum in Middleton, Wis. Throughout the month, customers can sample food-mustard pairings and enter for the chance to take home 18 mustards.