For this week's Off the Beaten Plate, we decided to try out a Latin American-inspired twist on a popular American dish: the chorizo sloppy José at Global Café.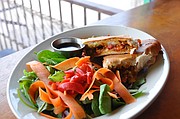 Unlike a traditional sloppy Joe, Global Café's version swaps chorizo for ground beef and piles on the veggies: roasted red peppers, caramelized onions, avocados and jalapenos, which give it a little heat.
It should be said that its name is a bit of a misnomer. This sandwich is pressed, eliminating the whole sloppy factor — a welcome change if you have the unfortunate tendency to let food dribble down your shirt like I do.
Where to get it: Global Cafe, 820 Massachusetts St.
What you'll pay: $7.50; includes a side
Try it with: A cup of green chile posole
Also on the menu: Lots of coffee options, like the barraquito (a traditional Spanish espresso with sweetened, condensed milk and lime slices floating around the bottom) and the Viennese coffee, an espresso-and-chocolate blend topped with whipped cream and chocolate sauce. In the way of food, you'll find plenty of sandwiches (including the arepa, a flatbread made with ground maize), salads and breakfast dishes. Green chile is Global Cafe's signature ingredient, so it's a common addition to several dishes at the restaurant. The salmon quesadilla — stuffed with grilled salmon, veggies and Monterey Jack cheese — is smothered with house-made green chili sauce.
— Off The Beaten Plate highlights some of the more exotic, oddly named or inventively concocted dishes from local menus. Know of an offbeat item we should check out? Email reporter Joanna Hlavacek at jhlavacek@ljworld.com. Follow her at Twitter.com/hlavacekjoanna