Name: Meg Schwend
Age: 24
Hometown: Kansas City, Kan.
Time in Lawrence: I just commute to school.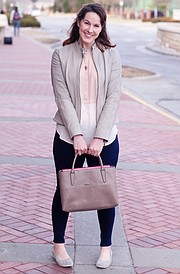 Relationship status: I have a boyfriend.
Occupation: I'm in the museum studies graduate program
Dream job: To work in a museum's exhibits department.
What were you doing when scouted? Just walking to class
Describe your style: I guess, I just really love (the color) gray. I love Cole Haan, pretty much anything that's flowy and comfortable, and a lot of neutral colors. My jewelry always has natural history elements in them.
Fashion trends you love: I'm really behind on everything. I'm not on the Internet that much. I do like to be casual most of the time. I'm not really fashion-minded!
Fashion trends you hate: The saggy diaper pants that Justin Bieber wears. That's the only thing that I can't handle.
Fashion influences: A lot, when I do dress up, is really retro pin-up-style inspired, like Bettie Page-type things when I actually care enough. At work, I wear Carhartt pants so I'm not sure where my style comes from. Maybe my mom. I raid her closet since she's fashionable.
What would you like to see more or less of in Lawrence? That's a hard question answer because I'm not here that much. But since it's a college town I think everyone should be comfortable at times.
Tattoos or piercings: None.
Whom do people say you look like? Rose on "How I Met Your Mother."
What type of music do you like? Alternative/indie rock.
Tell us a secret: I can chew a piece of gum, spit it straight in the air and then catch it back in my mouth!
More like this story on Lawrence.com