Name: One-Jea Lee
Age: 31
Hometown: Seoul, South Korea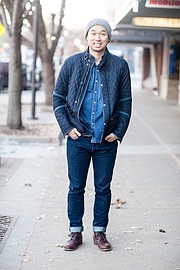 Time in Lawrence: About nine years
Relationship status: Single
Occupation: I'm studying architecture.
Dream job: I'd like save the world! I would like to use my major (in architecture) to help poor people here or in third-world countries.
What were you doing when scouted? Shopping with my friend
Describe your style: I'm pretty casual and laid back. It's the type of clothes an architect student may wear.
Fashion trends you love: I love the business-casual look because it allows me to transition between school and work. I also like Jayhawk fashion wear.
Fashion trends you hate: I really can't say anything negative about people's fashion trends.
Fashion influences: I read a lot of fashion and architecture magazines. I'm also inspired by one of my co-worker who is also an architect.
What would you like to see more or less of in Lawrence? More clothing shops and restaurants. Less parking meters.
Tattoos or piercings: None
Whom do people say you look like? Brad Pitt, I guess
What type of music do you like? Electronic and classical music
Tell us a secret: In the past 10 years, I flew more than 2 million miles.
More like this story on Lawrence.com