Wednesday, March 18, 2015
Name: Mary Rice
Age: 34
Hometown: Vale, Ore.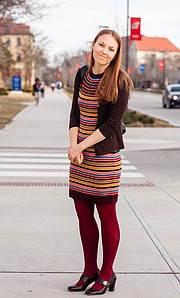 Time in Lawrence: Beginning of my third year
Relationship status: Married
Occupation: I'm a doctoral student in the curriculum and teaching department. 
Dream job: Writer. I have mostly found ways to do this in various disciplines.
What were you doing when scouted? I'm on my way to meet my husband to trade off our 3-year-old daughter.
Describe your style: In my heart, I'm a jeans, T-shirt and ponytail type of girl. But being a teacher and trying to be professional, I've really relied on fashion mentors over the years who have helped me develop a style that is more about being comfortable yet ready to meet somebody or attend something important.
Fashion trends you love: I really like colored tights. I think they're really fun when you don't make it too over the top.
Fashion trends you hate: I've been walking around all day and I've been seeing a lot of people in athletic gear, or "ath-leisure" is what they call it. I don't dislike it but it throws me off because I think all these people must be great athletes and maybe that's the truth. But I know in my head, also that there's this ath-leisure (trend) thing going on, so maybe they really aren't athletic. Maybe they're just dressing like that to confuse me!
Fashion influences: Besides my fashion mentors, I have a good friend, who's mother was a costume designer for years, who has been really helpful. I also have another friend who runs a boutique that gives samples to try out. People will also tell me what I would look good in. 
What would you like to see more or less of in Lawrence? Better street/grid planning. There are no streets that go east/west or north/south for very far without disruption. 
Whom do people say you look like? My husband says that I look like Kate Middleton. I'm sure he's just flattering me!
What type of music do you like? I mostly like everything except country. I used to have a job painting. We used to paint all day, so now when I hear country music I smell paint.
Tell us a secret: I used to be a journalist, so I got to do a lot fun things like sit in tanks and fly in helicopters!