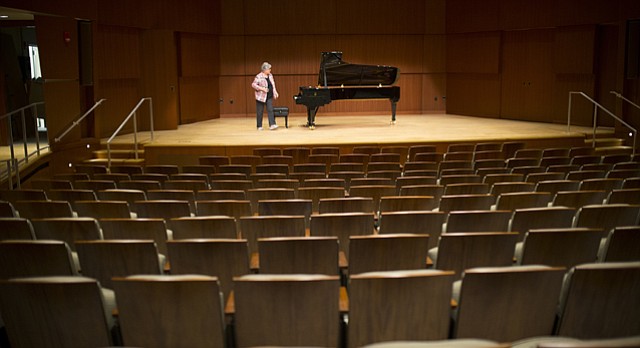 Kylie Smith remembers Monday, May 19, well. It was the day after Kansas University's Class of 2014 walked through the Campanile and down into Memorial Stadium to celebrate commencement — Smith returned to work that morning at Murphy Hall to find a cluster of dingy theater seats sitting outside the building.
Smith, the assistant to the dean for advancement at the KU School of Music, quickly snapped a picture and shared it on Facebook.
"And, just like that the Swarthout renovation has begun! Farewell old blue seats!" the caption read, eliciting comments ranging from the nostalgic to the gleefully cynical. While one person asked how he could "snag" a few of the seats, others proclaimed "good riddance" and advised the School of Music to "burn them."

For nearly 57 years, the seats were housed in Swarthout Recital Hall, the School of Music's primary academic performance space. Since opening in 1957, Swarthout has hosted more than a million patrons and staged more than 300 performances every year, making it the most-used concert venue in the state.
Despite its continual use, Swarthout remained untouched in all that time. So when crews began a $2.5 million renovation on the space last spring, the old seats were the first to go.
"It was by far the most-liked thing we had on social media all year, because everybody recognized them," Smith says of the teal-colored, velvet-upholstered chairs, which had the unfortunate tendency of squeaking and sometimes falling apart during performances in their later years. "It's a weird thing, but people have their favorite seats when they come in here over and over again."
But on a recent Thursday morning, Smith and her fellow School of Music staffers had just finished removing the plastic coverings from Swarthout's 273 freshly installed seats.
It was the last major addition to the 10-month project, which pulled the structure back to its cinder-block walls, constructing an entirely new performance space with acoustical treatments, audio, lighting and recording and webcasting capabilities. The venue also received a green room and a brand-new Steinway piano.
Now, with renovations complete, Swarthout may just be "the most beautiful small concert hall in all the Midwest," says Robert Walzel, dean of the School of Music.
The venue will re-open with an eight-concert series starting Monday. Dozens of alumni, some of whom graduated as far back as 1952, are slated to perform to christen the brand-new Swarthout stage.
That list includes Alan Harris, now a distinguished professor of violoncello at the Eastman School of Music, who played his senior recital at Swarthout the two years after it opened.
Another alumnus, Charles Couch, owns a high-end lumber company in Oregon. He handpicked and donated the wood for Swarthout's new floor, and will return to the space to play with his former professor, Edward Laut, who is retiring after the spring semester.
The Muriel McBrien Kauffman Foundation's $1 million gift in December 2013, along with the many "people in Lawrence who are passionate about music and the School of Music," have made the transformation possible, Walzel says.

"With those partners, we've been able to put the pieces together," says Walzel, who remembers visiting Swarthout as a junior-high student while attending the Midwestern Music and Art Camp in the early 1970s. "It's a special place."

'The Dean'
Throughout the fundraising campaign, which launched shortly after Walzel's arrival as dean in 2010, School of Music officials made it clear to prospective donors that the name of the hall would remain the same.
"The fact that we were able to preserve the Swarthout name, I think keeps a consistency for our alumni and our students in the future," he says. "When you come to KU, you know your capstone performance will be in Swarthout Recital Hall, as it been for five generations of KU graduates in the last 58 years."
Donald Swarthout, the hall's namesake, served as KU's dean of Fine Arts from 1923 to 1950. During his record-breaking tenure at KU, Swarthout established a name for himself as a nationwide leader in musical higher education.
In addition to directing the KU Concert and Chamber series and founding the Annual Holiday Vespers concerts, Swarthout was also president of the Music Teachers National Association from 1931 to 1932 as well as four terms beginning in 1944 at the National Association of Schools of Music.
After his mandatory retirement from administration, Swarthout remained at KU, as choir director and teaching piano, for five more years before taking a position as visiting professor of piano at Catholic University in Washington, D.C., in 1955. He taught there until 1959, just three years before his death at age 77.
But even in those later years, Swarthout was still "The Dean."
That's how Elisabeth Hayes remembers her grandfather.
"When we were growing up, he was always called The Dean, and I didn't realize until perhaps when I was a teenager that that wasn't his name," says Hayes, who will attend the hall's re-opening festivities this week. "In fact, I don't think anyone called him Donald, except maybe way, way earlier on."

Hayes, who grew up in Washington, D.C., and later majored in art history at American University, only visited Lawrence as a young girl while her grandfather still worked at KU.
She remembers her grandparents' home on Crescent Road, where she, "a city child," could look out from the garden to see miles and miles of then-undeveloped land.
"He loved Lawrence," Hayes says of Swarthout. "He really was a member of the community."
One of Swarthout's closest friends was, oddly enough, the legendary KU basketball coach Forrest C. "Phog" Allen. The two were avid golfers and played regularly. They also shared a love of music, Hayes says — Allen "had a very fine piano," which Swarthout may have helped him pick out.

Later, when her grandparents moved to Washington, Hayes developed a closer relationship with The Dean, whom she describes as a "wonderful, kind, intelligent man" with a taste for politics and sophisticated clothes.
Hayes, who now serves as executive director of the FACE Foundation in New York City, returned to Lawrence a few weeks ago to film an interview about her grandfather that will be shown during Monday evening's opening concert.
It was the first time she'd seen the space since her niece's graduation from KU three years back, and despite the hall's unfinished state — the seats, wood paneling and stage had yet to be installed — being there was "exciting," Hayes says.
On Monday, she'll be joined by that niece, Emma Hayes, whose late father, Bryant, also graduated from KU. Bryant and Elisabeth's mother, Evelyn Swarthout Hayes, graduated from the School of Music in 1932 and remained involved with the university throughout her life.
It's a family reunion in more ways than one for Elisabeth and her relatives, who have yet to see the completed makeover.
"I think he would have been extremely proud and touched," she says of her grandfather.
Swarthout's recital hall may have "taken a bit of a toll through the years," but thanks to renovations, it lives on — as does his memory.
"The building does have a lifespan of sorts, in that the structure doesn't pass away. But in time, there are always little things that start to fall apart," Hayes says. "And I think the care and attention to details — acoustical, visual and so forth — is very precious."

For a full schedule of Swarthout Recital Hall concerts, visit www.music.ku.edu.