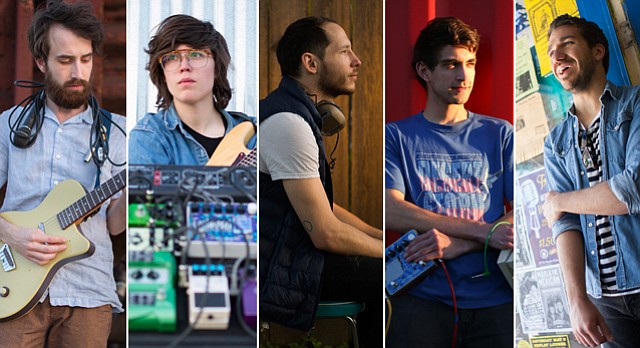 In the Lawrence music scene, sometimes you might think you're seeing double, triple or even quadruple. That's because in a town like this, with a strong contingent of musicians, some artists flex their muscles across several projects. Here are just some of the musicians you can see moonlighting throughout Lawrence.
---
Chris Luxem
Bands: CS Luxem (songwriter, vocals, guitar); Your Friend (guitar, vocals); Karma Vision (guitar, keyboards, vocals); OILS (guitar, keyboards, bass, vocals)
Chris Luxem is one of the busiest music-makers in Lawrence. In addition to his own project, CS Luxem, he plays guitar and provides vocals for Your Friend, Karma Vision and OILS.

Playing in so many bands can create a hectic schedule with endless practices, but Luxem says it helps keep him on his toes. "I have to bring my own aesthetics and instincts to the practices and performances, and figure out ways to utilize them in a manner that still highlights and accentuates the main songwriter of whichever project we are working on during that time," he says. "I am constantly learning and working towards bettering myself musically…. If I hear a song or see a show that blows my mind, it only makes me want to work that much harder; it's all built on collaboration."
---
Taryn Blake Miller
Bands: Your Friend (guitar, vocals); CS Luxem (guitar, bass, vocals); OILS (guitar); Hush Machine (drums)
Taryn Blake Miller is the force behind Your Friend, but also moonlights with CS Luxem and has even hinted at working in another project. But in the past she's popped up in OILS and Hush Machine. It's not uncommon to see bands call upon her expertise every now and then.
"I like to be a 'sixth man' when the opportunity is there. I played keys at a couple of Psychic Heat shows and had the absolute best time," says Miller, who notes that seeing bands borrow musicians from the Whatever Forever music label is fairly common. "It's not uncommon for each member to be in several other projects. With Whatever Forever, it's really incestuous in that band members are really shared, so scheduling is generally built in, in that way."
--
Jason Jones
Bands: Black Luck (guitar); 40 Watt Dreams (drums) ; Wells the Traveler (drums as a band, multiple instruments as a duo with Danny McGaw)
Another multi-instrumentalist, Jason Jones currently plays guitar for Black Luck (and has played drums for them in the past), drums for 40 Watt Dreams, and several instruments with Danny McGaw in Wells the Traveler. Like Miller, he also occasionally pops up on various instruments when needed. Jones says he finds the process satisfying.

"Some bands are rewarding because I'm surrounded by people I enjoy spending time with. Other bands are rewarding because of the challenge they pose to me musically or instrumentally," he says. "Some satisfy a particular musical itch I have at the moment, but more often than not it is a confluence of all these rewards and more."
Because the bands Jones plays with come from different genres in the scene, scheduling is a bit of a challenge.
"You have to be straightforward with your schedule between bands and always follow what I kind of consider to be the 'golden rule' of multi-bandedness: Honor what is booked first," he says, although he longs for a lifestyle where he plays music every night of the week. "Though I am always busy, it turns out that with the ebb and flow of multiple band dynamics, it sometimes takes being in two to three bands to play two to three times a week on the average."
---
James Thomblison
Bands: Arc Flash (guitar, vocals); No Cave (bass, vocals); CS Luxem (bass); Mau Bones (solo, loops)
Although he plays in a lot of newer bands, James Thomblison has found a way to spread himself across several projects. You'll most often see him playing guitar behind the mic in Arc Flash, as well as lending a musical hand to No Cave and CS Luxem. He occasionally makes loops by himself as Mau Bones.
Since so many of these acts are fresh, Thomblison is working on fine-tuning his skill.
"I enjoy being in multiple projects because it helps me develop a better ear and I can try out different tricks in varying scenarios," he says. "Being in a band is also a great way to hang out with your friends, so it rules to get to do it all the time. I feel lucky so many people want to make music with me."
In addition to the companionship, Thomblison also enjoys spending time with musicians he looks up to.
"Writing and playing with some of my favorite local songwriters has enhanced my own abilities, and I hear my own sensibilities rub off on them," he says. "We are but aural flowers spreading idea pollen."
---
John Benda
Bands: Black Luck (drums); Spencer Mackenzie Brown (drums); solo (guitar)
You don't normally associate aggressive punk rock with smooth folk-pop, but John Benda has found a balance between the two. He divides his time drumming with punk rockers Black Luck and indie folk-rocker Spencer Mackenzie Brown. He also plays guitar as a solo artist, and is the interim music director at Lawrence Wesleyan Church.
Spreading himself across two completely different genres is necessary for a busybody like Benda.
"I find that having more than one musical outlet keeps me from feeling like I have to shoehorn all of my musical ideas and ambitions into one band," he says. "As a drummer, one band just isn't enough space for all the stuff I want to try. I want to blow off steam and get sweaty, I want to play interesting pop music, I want to do something that's rooted in my faith, and I want to write my own songs. If I was trying to do all of that in one project, it would be chaotic and stupid."
---
Mark Osman
Bands: CS Luxem, Arc Flash, Karma Vision, OILS and The Wandering Lake (drums in all)
Speaking of busy drummers, Mark Osman takes the cake. His impressive style is unlike any other in Lawrence, and he finds a way to tailor it carefully to each band he's in.
But playing in so many projects is what helps him spread out all the drumming styles and techniques bouncing around in his head.
"It's great having multiple projects to put creative energy into because I'm not trying to force all of my creative output into one band or a particular style," he says. "It makes it easier to really listen and engage with each of the different groups and add what a particular project is actually needing, instead of feeling like I have this one mode of expression and I have to cram all of the creative energy I have into a box that doesn't always fit."
In the end, Osman echoes the sentiments of so many of his peers.
"Being in several projects means I play a lot of shows, which for me is a deeply rewarding part of being a musician," he says. "I get to play out more nights than I don't when I'm at home, and frequently tour across the country. I'm still waiting tables when I'm home to pay the bills, and rarely get enough sleep. But otherwise, I'm surrounded by people I love and basically living my dream most days. I'm probably more genuinely content than I've ever been, and every year it gets better and I get closer to finding a better balance.
---
— Fally Afani is a freelance writer and editor of I Heart Local Music. For more local music coverage, visit iheartlocalmusic.com.