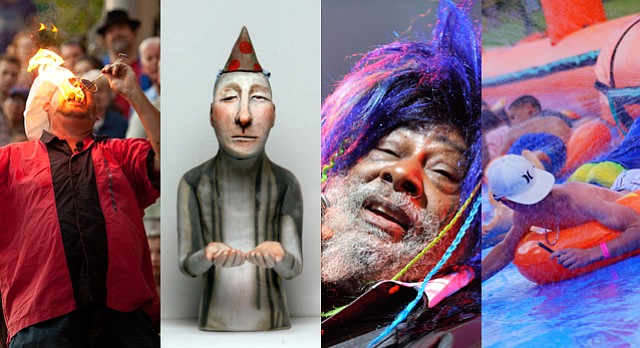 Don't let the heat keep you inside all summer. From art exhibits to outdoor concerts to "The World's Best Slip N' Slide", there's a lot to see and do in Lawrence in the next few months.
Here are some of the notable arts, entertainment and culture events scheduled from now through August. And for a full list of everything going on in Lawrence, check out our online event calendar.
---
Summer in the City
The Lawrence Public Library's annual Summer in the City summer reading program returns this year with a superhero theme. Beginning May 21, participants (kids, teens and adults) can pick up a reading log and event calendar at any of the library's service desks or online at www.lawrence.lib.ks.us. There will also be a kickoff party from 10 a.m. to noon May 30 at the library featuring family activities, doughnuts and a superhero-themed photo booth.
The program runs until Aug. 24, and has a pretty simple premise: read, attend events and win prizes. This year, participation will be measured by the number of books read (five for adults, 12 for teens and kids) or by time spent, with all ages challenged to read (books, magazines, even cereal boxes) a total of 30 hours.
---
Talking Music With Booker T. Jones
As a kickoff to its new "780s Series," the Lawrence Public Library is hosting Grammy Lifetime Achievement Award recipient Booker T. Jones at Liberty Hall, 644 Massachusetts St., on May 21.
The longtime R&B; musician will share the stories behind his music with library director Brad Allen during the free event, which offers general-admission seating on a first-come basis.
Inducted into the Rock and Roll Hall of Fame in 2013 and the Musicians Hall of Fame in 2008, Jones has a lengthy catalog of classic hits to his name, including "Green Onions," "Hang 'Em High," Time is Tight" and "Melting Pot."
Doors open at 6:30 p.m., and Jones' conversation begins at 7:30 p.m.
---
Lawrence City Band concerts
A much-loved local tradition continues this summer with the Lawrence City Band's concert series, held at 8 p.m. every Wednesday in South Park, 1141 Massachusetts St.
The first performance, dubbed "A New Summer Season," will kick off the season May 27. The "Grand Finale" is slated for July 15.
The band's weekly Brown Bag series, held Thursdays at noon in front of the U.S. Bank building at 900 Massachusetts St. (with exceptions being the July 11 and July 30 performances at the Lawrence Public Library's plaza area), will run June 4 to July 30. In case of rain, the concerts will move to the Watkins Museum of History at 1047 Massachusetts St.
All performances this summer are free and open to the public. For more information, visit www.downtownlawrence.com or call 842-3883.
---
Lawrence Busker Festival
This quirky event attracts performers of all kinds (magicians, sword swallowers, fire dancers and more) along with thousands of spectators to downtown Lawrence every summer.
The three-day festival, now in its eighth year, boasts additional performers and stages this summer. Usually in the dog days of August, the festival has moved to late May this year to buddy up with the annual Art Tougeau car parade and "make it a really weird weekend," according to the festival's website.
Festivities begin with the Busker Ball, giving patrons the chance to preview the acts and meet the performers, May 28 at the Granada, 1020 Massachusetts St. The rest of the festival will be May 29-31 throughout downtown Lawrence.
---
Downtown Lawrence Film Festival: Dinner and a Movie
Downtown Lawrence Inc. invites everyone from families to film buffs to pull up a chair (or spread out a blanket) on the lawn of the Lawrence Public Library, 707 Vermont St., for this summer-long outdoor film series. The festival kicks off June 4 with a screening of "Jurassic Park," followed by "Back to the Future" on June 25, "Back to the Future II" on July 9 and "Despicable Me" on July 30.
Local vendors will be on hand with food and drinks at 7:30 p.m., along with live entertainment. Attendees can snag free popcorn and door prizes from downtown businesses before showtime at 9 p.m.
---
Summer Youth Theater
The Lawrence Arts Center will kick off its annual performances with "Shrek Jr. the Musical" on June 11.
This year's season also includes "Spring Awakening" from June 18-21, "Avenue Q" from July 23-26 and "Science; BOOM! You're Welcome" from July 16-18.
The series' new Rookie Program (for first- through third-graders) will debut with a production of "The True Stories of Little Red Riding Hood and Other Fairy Tales" on June 6, followed by "The Adventures of Perseus, a Fabulous Greek Myth"on July 11.
Visit www.lawrenceartscenter.org for tickets and showtimes.
---
"South Pacific"
Theatre Lawrence wraps up its 2014-2015 season in June with "South Pacific," Rodgers' and Hammerstein's Tony-winning classic.
Set on a tropical island during World War II, the 1949 musical follows two parallel love stories that are threatened by prejudice and war, and features the beloved tunes "Some Enchanted Evening," "Nothing Like a Dame" and "Bali Ha'i."
"South Pacific" will run June 12-28 at Theatre Lawrence, 4660 Bauer Farm Drive. Visit www.theatrelawrence.com or call 843-7469 for tickets and more information.
Season ticket holders may reserve seats online now; public sales begin May 25.
---
Free State Festival
Best-selling authors, popular comedians and award-winning filmmakers will meet in Lawrence for this year's Free State Festival, slated for June 22-28 in various locations across the Lawrence Cultural District.
Among the highlights: a free outdoor concert by George Clinton and P-Funk at Ninth and New Hampshire streets June 24; a stand-up routine from Grammy-nominated comedian, actor and radio personality Tig Notaro, followed by a screening of her short film "Clown Service" and a Q&A; with Notaro and her partner, Stephanie Allyne, on June 22; and a talk and Q&A; with Dennis Lehane, the author and Oscar-nominated screenwriter behind "Gone Baby Gone," "Mystic River" and "Shutter Island" on June 27.
Check out www.freestatefestival.org for more information on how to get festival passes and a schedule of all the events.
---
Artist-in-residence exhibitions at the Lawrence Arts Center
The Lawrence Arts Center will celebrate current artists-in-residence Tonja Torgerson and Gunyoung Kim this summer, starting with an opening reception for their exhibitions from 5 to 9 p.m. June 25.
"Memento Mori" and "New Works," running June 25 to July 9 at the Arts Center, will respectively showcase recent creations by printmaker Torgerson and ceramist Kim.
Both artists will be on hand for an INSIGHT Art Talk 7 p.m. July 9 at the Arts Center, 940 New Hampshire St.
---
Fourth of July Party in the Park and fireworks display
Celebrate Independence Day partying in Watson Park, which at 4 p.m. will host a festival featuring 15 food vendors, a children's area, live music and spoken word and theater.
At 9:15 p.m., attendees are encouraged to walk en masse across the street to Constant Park and stake out a spot for the annual fireworks display, which will be shot off from the north side of the river around 9:45 p.m.

---
Kansas Classical Repertory Theatre
Kansas Classical Repertory Theatre returns for its second season July 17 with "Sherlock's Last Case," an affectionate spoof of the beloved detective series set six years after the supposed death of Sherlock's nemesis, Professor Moriarty. That production will run until Aug. 1 at Murphy Hall's Stage Too!
In keeping with repertory style, Agatha Christie's 1952 murder mystery "The Mousetrap" will also be performed in rotation from July 24 through Aug. 2 at the William Inge Memorial Theatre.
For tickets and showtimes, visit www.KUTheatre.com or call 864-3381.
---
Douglas County Fair
Visit the fairgrounds, 2110 Harper St., July 24 through Aug. 2 for a taste of down-home fun at the Douglas County Fair.
This year's fair offers all the traditional highlights (4-H animal attractions, rides, live music and funnel cakes, of course) plus the return of Mowbashers, a twist on the ever-popular Demolition Derby that has competitors crashing into each other atop riding lawn mowers instead of battered old cars.
For more information, including a full schedule of events, visit www.dgcountyfair.com.
---
The Urban Slide
Take a ride down the "World's Best Slip N' Slide" when The Urban Slide rolls into Lawrence on Aug. 8 and 9.
As of now, it looks like the 1,000-foot "adventure" will be positioned along Eighth Street through downtown Lawrence.
Registration is required for the event, which runs from 10 a.m. to 6 p.m. (with a glow-in-the-dark nighttime session from 8 to 10 p.m.) Saturday and Sunday from 10 a.m. to 6 p.m.
For more information, including how to register, visit www.theurbanslide.com/events/lawrence-ks.