It all started with a doodle.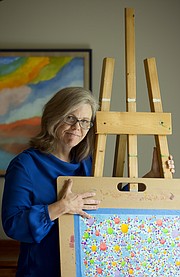 Lesa Weller had always struggled with mental health. Diagnoses for depression and bipolar disorder came early in life, and several suicide attempts marked her teenage years.
But by 2004, Weller was doing better. She'd graduated five years earlier with degrees in creative writing and American studies from Kansas University and had been working as an administrative specialist at the school's Undergraduate Advising Center.
Weller, it seemed, had carved a "very happy" life for herself and her then-teenage son here in Lawrence.
It all came crashing down in spring of that year, however, when her father's sudden death resulted in a breakdown so severe that it landed her in the hospital.
He was diagnosed with lung cancer in January. He was gone by late March, Weller recalls.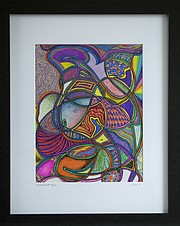 "I thought I'd gotten past it," Weller, 51, says of her depression. "But when my dad passed, it just hit me."
During her stay at Topeka's Stormont Vail West — and subsequent stints at Osawatomie State Hospital and various Kansas City-area facilities — Weller started doodling, a habit she employed frequently as a student in lectures at KU.

This time, the doodles were different. Doctors had diagnosed Weller with dissociative amnesia, a condition in which the patient suppresses painful memories. In Weller's case, a traumatic incident from childhood led her to "leave her body" and develop at least a dozen personalities that have different coping methods.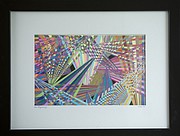 Drawing, she now says, allowed her to better understand her amnesia and dissociative identity disorder — conditions she had lived with but never recognized as abnormal for most of her life — and find peace.
Weller's first "serious" piece of art, "New Beginnings," has now become her signature. Created during her hospitalization with a ruler and some gel pens, "New Beginnings" depicts dozens (perhaps hundreds) of straight lines intersecting into colorful checkerboard-like patterns.
The image represents "how all these disparate parts of myself are coming together," Weller says.
"It helps me heal, it helps me cope, it gives me meaning in so many ways," she says of her art. "It's just lines and color, but if I can just put that down on paper and share it with others, it's like life itself. It's like breathing."
Now, more than 10 years after that first drawing, Weller says she's in a "better place" mentally than ever before.

Part of that comes with accepting that life is not always predictable. And living with mental health issues — like any difficult set of circumstances, Weller points out — is often a bumpy ride, with potholes and smooth patches.
Just a few weeks ago, Weller found herself in the hospital again. It was there that she began work on a new piece, "The Road Back to You," that she says is part of her newest series.
In the drawing, curved lines intertwine into a colorful, psychedelic mass.
"I started thinking about my husband and how I wanted to get back home to him and have a happy life with him," Weller says of the piece's inspiration. "It's almost like a road not just back to my husband, but to myself and what's really important in my life."
She shares a home with Jack, her husband of six years, and her dog, Freckles, and cat, Kiwi. She's converted the living room into a studio, where the animals frequently join her, and teaches stained-glass classes at Lawrence Creates Makerspace, where she formerly served as gallery coordinator.
"I mean, we all have our ups and downs, but I'm at a better place now than I've ever been," Weller says. "This has been a long process. I'm 51 now, and I've been at this a long time."
Weller hopes to encourage others with mental health conditions to try their hand at art, too. Being that May is Mental Health Month, it's an especially timely goal.

"My art is all about surviving and healing and evolving into the person you want to become. In my art, I want people to find a reassurance that they too can heal, that they too can evolve into what they want to be, and that it's possible," she says. "I've heard so many people with mental health issues say there's no hope, that they'll never be happy. And I want them to hear so much that recovery is possible, that they can come away from that a better person that they will respect and love."
More like this story on Lawrence.com