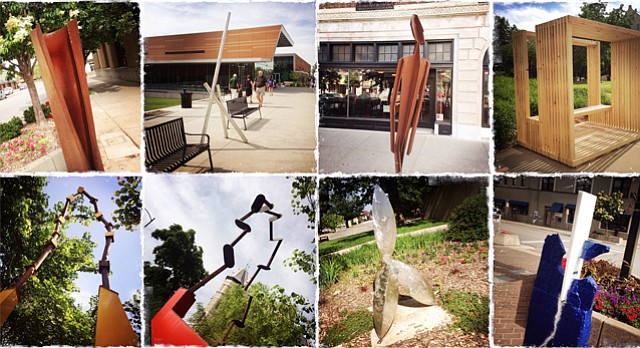 When John Merigian accompanied his teenage son on a college visit to Kansas University last year, he rounded out the trip — as many parents of prospective Jayhawks do — with a walk down Massachusetts Street.
It was there that the recent Kansas transplant noticed "all these cool sculptures" dotting the downtown landscape and thought to himself, "I'd like to do this."
Now, his sculpture "Homage to L'Homme Qui Marche" adorns the sidewalk outside The Eldridge Hotel on the southwest corner of Seventh and Massachusetts streets.
Merigian is one of five artists contributing work to this year's Downtown Outdoor Sculpture Exhibition, featuring eight sculptures total. Founded by local sculptor James Patti in 1988 and sponsored by the Lawrence Cultural Arts Commission, the exhibition attracts artists from all over the country.
Outdoor sculptures
The sculptures and artists making up this year's Downtown Outdoor Sculpture Exhibition: "Silueta" and "Point in Time" by V. Skip Willits; "Wedges 3" by Matt Moyer; "Fault Plane" by Kristin Garnant; "Kubota Orange Dinosaur" by Matt Moyer; "Homage to L'Homme Qui Marche" by John Merigian; "bench (basics)" by Matthias Neumann; and "INTERCESSION 13 (Yang)" by Nancy Lovendahl.
Kevyn Gero, a management intern in the city manager's office, has led most of the organization efforts on the exhibition after Christina McClelland left her post as Lawrence's director of arts and culture late last year.
Whereas in previous years the city mailed out notifications to past applicants, Gero says this time around, the call for entries expanded into more varied locations.

The strategy seems to have paid off. This year, organizers received 79 sculpture entries, more than double 2014's total. Juror Bill Haw, who owns and operates Haw Contemporary gallery in Kansas City, Mo., narrowed the selection down to eight.
With the exception of one "straggler" that now stands in front of the Douglas County Courthouse, all were installed during a two-week period in late April, Gero says.
Nancy Lovendahl's sculpture "Intercession 13 (Yang)" is part of a series that explores intercessions, or "the mediation between two elements." It's situated in front of Merchants Pub and Plate, at the northeast corner of Eighth and Massachusetts streets.
Drawing from the Chinese philosophical concept of yin and yang, Lovendahl used electric and pneumatic stone-carving tools to lodge a 2-foot slab of white marble into a tall column of stacked Kansas limestone.
The marble represents male energy (yang) interceding the female (yin), in the process of "cracking open the cosmic egg" against a night sky embodied by the limestone coated in blue UV-balanced epoxy resin.
"To crack open the cosmic egg is like unlocking all that's possible in yourself," explains Lovendahl, who hails from Old Snowmass, Colo. "It's the pinnacle of all possibilities."
White resin trickles down the length of the form, representing the power of yang (positive action) "transforming" the universe.
But that's just Lovendahl's take on it. She says the meaning is subjective, and she wants viewers to let their intuition (or yang, perhaps more appropriately in this case) lead the way.
"Some of my intentions and energy stay with the piece, but you as the viewer may interpret them along the lines of your own perceptions. And everyone is right," she says. "People are very afraid that since it's abstract, they don't know what it is. But abstraction is more of an open-ended conversation, because you can just let your imagination fly."
Artist John Merigian takes a similarly laid-back approach to his work, which he made in response to Alberto Giacometti's famous "L'Homme Qui Marche" (translated as "The Walking Man") sculpture series. Both Merigian's welded Corten steel sculpture and its inspiration depict an elongated figure mid-stride with arms hanging at his sides.
But while Giacometti's work often suggested social isolation, Merigian says his art — including the sculpture in Lawrence — aims to remind the viewer of our inherent connection to others.
It's what Merigian, who relocated to Newton from Texas in November 2013, had in mind when he submitted his piece for the exhibition.
"I wanted to feel a connection here," says Merigian, whose son, Jonathan, just finished his first year in KU's industrial design program. "I'm excited to be a part of Lawrence. It gives me an excuse to sit in The Eldridge and have lunch and look out the window and watch people."
Earlier this spring, Merigian traveled to Lawrence to help with the installation. While taking a short break, he noticed a group of college-age kids walking by his sculpture, touching it for a moment before moving on down the street.
Others, he predicts, might stop and "take a longer pause," trying to derive some greater meaning. Either way, he's glad the community will have a chance to engage with his art.

"I think there will be different layers for different people," he says of the piece. "I want to present something that even a little child can look up at and tell, 'Oh, it's a person,' all the way up to someone who is well-versed in the art world and understands who Giacometti is and how my work relates."
The Downtown Outdoor Sculpture Exhibition will remain on display until April 10, 2016. Visit the city of Lawrence's website to download a brochure and see a virtual tour of the exhibition.