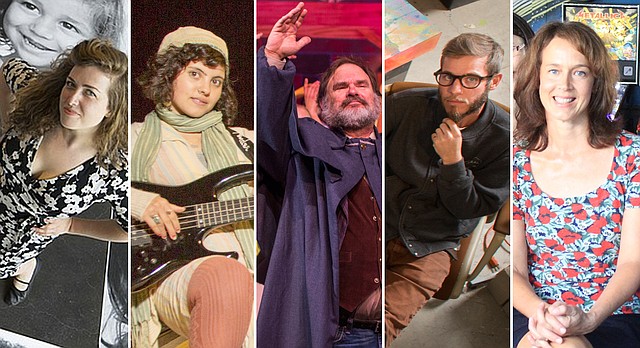 Sunday, November 22, 2015
"What makes you thankful to be an artist in Lawrence?" In advance of this week's holiday, we posed that question to a handful of Lawrence artists working in a variety of disciplines, among them visual art, theater, music and film.
Here are their answers:
Rachael Perry
"My artistic practice invites participation, collaboration and celebration. As such, I am grateful to the people of Lawrence. This community has supported me as an artist, encouraged me to create, and has been a part of the journey. My most recent work, Lawrence Inside Out, engaged 650 participants in a portrait project that celebrated all things artistic in our city. Thank you for sharing your beautiful faces and stories. I am grateful to be here on this planet at this moment of time with all of you. It is here that I am vibrantly, artistically alive."
— Rachael Perry is a visual artist, writer, photographer and facilitator of the recent Lawrence Inside Out Project, which documented the diverse faces of the Lawrence arts community through approximately 650 black-and-white portraits shot by Perry.
Monica George
"I am thankful to be an artist in Lawrence because there is a community of inspiring radical people who want change; people who appreciate the need for a creative voice amidst important social movements and worldwide chaos, and are still rooted in their own lives, families and communities."
— Monica George is a member of "ethereal folk" band The Ovaries-eez and co-founder of Girls Rock! Lawrence, a weeklong camp program that aims to empower young girls and female-identifying youths through music.
Ric Averill
"I'm thankful to be a Lawrence artist because of the tremendous support local artists, including myself, receive through the Lawrence Arts Center. I am grateful for the visionary work of our staff and board of directors who ensure that the Arts Center is a place that commissions new work and supports artists in all stages of their careers, allowing so many of us to enhance our visual and performing arts by bringing regional, national and international artists to work with local artists. Such productions as 'Three Penny Opera,' 'Pinocchio' and my own 'Midnight Visit to the Grave of Poe' have all been enhanced and supported by the Lawrence Arts Center. The Lawrence Arts Center invited the Seem-To-Be Players theater company to be collaborators in 1974, absorbed the company as part of the development of the new building in 2002 and have since developed a performing arts program that is a wonderful mix of professional, community and student actors, musicians and dancers all creating works unique to our 'Camelot on the Kaw' — Lawrence, Kansas, the heart of Culture in the Midwest."
— Ric Averill is an actor, playwright, director, musician, composer and artistic director of performing arts at the Lawrence Arts Center.
Jeromy Morris
"There are so many talented artists in this town that infect me with inspiration. The passion and collaborative nature within the arts scene in Lawrence is quite beautiful."
— Jeromy Morris is a designer and visual artist working in several mediums, the director of SeedCo Studios and curator at the Cider Gallery. He is also a founding member of Lawrence's Fresh Produce Art Collective.
Laura Kirk
"I am thankful for the ambition, creativity and talent I encounter in students in FMS (Kansas University's department of film and media studies) and in the KU Theatre and JIST (Jayhawk Initiative for Student Theatre) productions at KU. I am thankful for prolific colleagues and collaborators such as Kevin Willmott and his upcoming feature 'Chiraq,' and Through a Glass Productions, my co-founders from Women of Lawrence Film and our mentees, for the Free State Festival and its emerging scope and outreach, Sara Wentz who leads the choir I sing in at First United Methodist Church, and for the growth of the Kansas City Film Commission and local film, all of which allow me as an artist to keep doing what I do and share it with up-and-coming artists."
— Laura Kirk is an actress, filmmaker, adjunct lecturer at Kansas University's theater and film and media studies departments, and a co-founder of Women of Lawrence Film (WOLF), a collective of local female filmmakers that mentors young women in the Lawrence community.