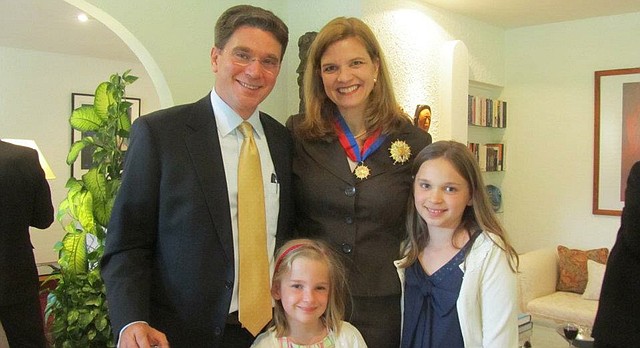 Saturday, November 28, 2015
When the San Jose mine collapsed in August 2010 and left 33 workers trapped 2,000 feet beneath Chile's Atacama Desert, it took the efforts of several Chilean government ministries, NASA, approximately a dozen multinational corporations and one quick-thinking Lawrence native to get them out.
Selina Jackson, a 1984 graduate of Lawrence High School and 1988 alumna of Kansas University, helped facilitate the transportation of the 13-ton drilling equipment that brought the miners safely above ground in October 2010.

With the recent release of "The 33," a film retelling of the real-life event that held the world captive for 69 days (the duration of the miners' entrapment) just more than five years ago, Jackson is reflecting on her role in the crisis more often these days.

"People are calling me," Jackson said during a phone call from Geneva, Switzerland, where she works as the World Bank Group's special representative to the United Nations and World Trade Organization. "When they see (the movie), they realize it was a small but important piece to the whole puzzle."
Jackson, who as a young girl growing up in Lawrence aspired to work in public service, was working for UPS at the time — mostly dealing with policy matters — as vice president of public affairs when the San Jose mine collapsed.
She'd been collaborating with the Chilean government on a trade initiative for the last few years, but her interest in the mining accident, she now admits, wasn't significantly greater than any other American following the story on TV and the newspapers.
Her attentions were divided. Jackson was in the last week of her job at UPS in Washington, D.C., and preparing to move her family, including two young daughters, to Switzerland to begin her new position at the World Bank.
But when Jackson got the call from her trade-initiative colleague Roberto Matus, then at the Chilean Embassy in Washington, asking if UPS had the capabilities to transport the high-tech drill (manufactured by U.S. company Center Rock Inc., the equipment could cut through the kind of hard rock trapping the miners) from Pennsylvania to Chile, she had to mobilize.
Matus had already tried lobbying the U.S. state and defense departments with no luck, and thought perhaps the private sector could help, Jackson said.
"I think it was the Friday before Labor Day weekend, so it was leading into a period where I wasn't sure if I was going to be able to do anything, because a lot of people would be on vacation and it was also my last week of employment there," Jackson recalled. "I was literally packing boxes the day I got the call."
Labor Day or not, Jackson knew she had to act fast. After a few internal phone calls, UPS personnel were in Pennsylvania inspecting the drill, breaking it down into smaller components and loading everything into a container to be shipped by UPS to Chile.
"In about 48 hours, we had the team putting it together, and within 72 hours, it was in the air," Jackson said.

Six weeks later, Jackson and her husband — along with more than 1 billion TV viewers around the globe — watched CNN as the drill pulled all 33 men up from the mine, unharmed. They celebrated the news, aptly, with a Chilean bottle of wine.
And that was it — until Jackson, sitting at her desk at the World Bank in Geneva a year and a half later, got another call from the Chilean ambassador's office. Jackson was to be awarded the Merit Order of Bernardo O'Higgins, the highest civilian honor granted to non-Chilean citizens.
In May 2012, at the home of the Chilean ambassador in Geneva, Jackson received the award in a small, intimate ceremony surrounded by her family and close friends.
Still, she said looking back on the incident five years later, it takes more than just one capable person to pull off an operation like the mine rescue.

"It was an important lesson in teamwork — your team is your strongest link," Jackson said, echoing the words in her acceptance speech from that day. "Everybody heeded the call to make an effort and do something, even though it was a holiday weekend and they had the choice to not do anything. Had any one person along that chain made the choice to not make that effort, it would have all fallen apart."
Jackson, who wasn't consulted for "The 33," hadn't seen the movie as of press time, though she'd like to. Her parents, longtime Lawrencians Dwight and Caroline Jackson, caught a showing of the film soon after it opened in Lawrence a few weeks ago, and weren't shy about sharing their opinion with her.
"My mother called saying, 'They didn't put it (Jackson's role with the drill) in there! They didn't have any reference to it!'" she said good-naturedly.
And Jackson seems OK with that. She'd "absolutely" do it all over again, she said, if given the choice.

"I was actually part of the effort to save lives, even at a private-sector company, which just goes to show that you can do great things wherever you are," she said. "As long as you don't mind who gets the credit for it."