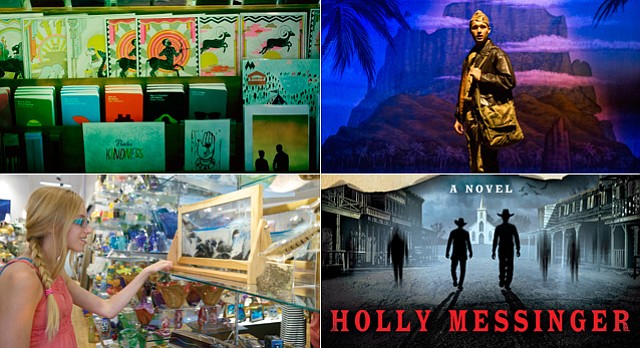 Sunday, November 29, 2015
With the holiday season upon us — and the madness of Black Friday behind us — you won't find a shortage of artsy gift options here in Lawrence. We thought we'd illustrate where in town to snatch up locally made gifts for art lovers of all kinds. From ceramics and jewelry to books and theater, we've got you covered.
For more ideas, check out our online event calendar (the holiday season is packed with arts and craft fairs, including the Van Go Adornment Holiday Art Sale, going on now until Dec. 24) or peruse our links. (Etsy is your friend.)
Wonder Fair, 841 Massachusetts St.
What to buy: The whimsical gallery and store specializes in moderately priced gift items (embroidered patches, stationary and Harry Potter-themed pencils, to name a few options in the way of stocking stuffers) as well as Lawrence-centric creations like Patrick Giroux's Landmark Print Series (the locally produced designs feature iconic buildings and emblems of the city), priced around $30.
If you've yet to send out holiday cards, Wonder Fair also boasts a varied selection of handcrafted paper goods made by local artists for about $5 each.
On the higher end of the price range, Wonder Fair co-owner Meredith Moore suggests the $100 membership to the shop's art-supply co-op. The one-time fee includes lifetime membership (with "a really cool" membership card to make it official), discounts and coupons, and artist workshops and demonstrations.
Made, 737 Massachusetts St.
What to buy: Jewelry. Made carries tons of it, from the Kansas City-based Lost and Found Design. Their Royals-themed laser-cut wood necklaces and earrings, priced at $12 and $16, have been popular lately, says Made co-owner Matt Richards. And, for the bookworm in your life, literary pendant necklaces from Tonya Williams' JosabelleStudio in Rantoul. The pieces, which feature quotes from famous authors, are priced around $20.
Other options include more Kansas-y prints by designer Virginia Merritt (you can find her at Eudora's Indie Olive), plus handmade ornaments, tea towels and candles, all made in-state.
Phoenix Gallery and Phoenix Underground, 825 Massachusetts St.
What to buy: You'll find just about every medium (paintings, prints, leatherwork and paper goods among them) represented at the gallery and its downstairs sister store, with new items arriving every week, says manager Sue Shea.
Gift options include ceramics (from functional dishware to large, sculptural pieces) by local artists Anne Egitto and Alan Brummell, to name a few. Jewelry (crafted by Rachael Sudlow, Zee Galliano, Lana Grove and others) runs the gamut from trendy to timeless, with a price range of $15 up to $1,500.
Bob Gent's colorful, hand-blown glass ornaments are one of the gallery's most popular gift items, with hundreds being sold every year. They're priced at $10 to $25.
The Raven Book Store, 6 E. Seventh St.
What to buy: The downtown shop is a big supporter of local authors. Raven owner Heidi Raak offers a few recently released recommendations, all penned by Lawrence writers:
Nonfiction
'Images of America: Lawrence,' by Virgil W. Dean
This slim volume from longtime Lawrence historian and Washburn University adjunct assistant professor Virgil W. Dean documents the town's history, spanning its abolitionist beginnings to the rapidly changing mores — and local identity — over the past 150 years, illustrated with the help of historical photos dating back to Quantrill's Raid.
Fiction
'The Curse of Jacob Tracy' by Holly Messinger
Messinger's debut novel (due in store Tuesday) follows the adventures of Jacob Tracy, a Civil War veteran whose curse — he can see dead people — has cost him everything, including his family and very nearly his sanity, in 1880s St. Louis. Jacob's powers flourish after taking on a paranormal job from the wealthy yet secretive Miss Fairweather, whose meddling eventually lands Jacob in trouble with elements more ancient and sinister than any ghost.
Poetry
'Deep City' by Megan Kaminski
This "delicate" offering from Kaminski, an assistant professor of poetry at Kansas University and founder/curator of the Taproom Poetry Series, explores desire and longings "'feudal,' futile and refined," Jennifer Moxley endorses, illustrating "how our sense perceptions insistently puncture through even the most rational arrangement."
More ideas…
Got a music lover and/or theater buff in your life? The Lied Center offers a variety of ticket packages, though the "Choose Your Own Series" might be your best bet as the 2015-2016 season is already halfway over — pick four or more performances, and receive a 5 percent discount. For more information, visit lied.ku.edu or call 864-2787.
Theatre Lawrence also offers season tickets, with "The Premier Package" (includes a full season of all six shows) and "The Pick Four" (two musicals and two plays of your choice) as regular options, available at theatrelawrence.com, in person at 4660 Bauer Farm Drive or by calling 843-7469.
The Lawrence Arts Center doesn't offer ticket packages, though gift certificates (available at 940 New Hampshire St., lawrenceartscenter.org or by calling 843-2787) can go toward just about anything at the Arts Center, including concerts, dance performances, plays and even classes.