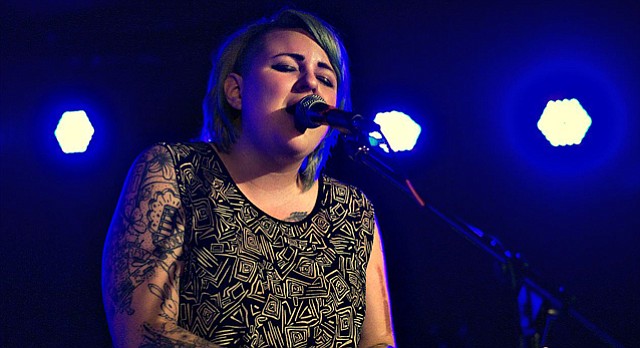 Thursday, October 1, 2015
There is no musician who could be labeled more of a homegrown artist than Katlyn Conroy.
The satin-voiced singer behind La Guerre (French for "The War") has played in bands since she was a tween, and there isn't a single major venue in Lawrence with a stage she hasn't graced. This Saturday, she'll be returning to the one of the larger stages in town at the Lied Center for Midwest Fallfest, an event that showcases music, art and film at KU.
Without expectations
Growing up in the local public eye hasn't necessarily been a cakewalk, but it started strong.
"I played my first show when I was 14 at the Granada, and there were 600 people there," says the now 26-year-old Conroy, who very quickly learned that not every show would draw a crowd like that. "It's been over 10 years of pretty consistently playing shows in this town; it's pretty bonkers."
Since then, Conroy provided the songwriting, vocal stylings, and synth skills in Another Holiday, Katlyn Conroy & the Wild Wooly, and Cowboy Indian Bear, a band that took her on tours and to festivals across the nation. But when all those projects came to an end, Conroy knew she could confidently rely on her own music.
"I had always kind of had a solo project, and changing my nom de plume to La Guerre was a way to have more options, steering away from someone playing just by their name and assuming it would be some sort of minimal singer/songwriter stuff," Conroy says. "I wanted the freedom to have as small or large of a band, and play music without expectations of just using my name."
Empowering through music
Armed with this new freedom, Conroy made the music that felt most natural to her. What resulted was a dramatic set of songs saturated with emotion and personal tones.
You can't really pinpoint the songs as pop, indie or electronic, because they move freely between all genres. This ended up striking a chord with one very distinct fan base: young women.
If you go
Midwest Fallfest, featuring performances by La Guerre, Shy Boys, Various Blonde and LION, as well as films created by KU students and work by local artists, will be 5:30-10:30 p.m. Saturday at the Lied Center Pavilion, 1600 Stewart Drive. It is free to attend. For more information, visit SUAevents.com.
It's not unusual to see women barely out of their teens rush up to Conroy after a show and profess their love for her music. Conroy believes there's a reason her work attracts young women.
"I think it's just because of the honesty in the music," she says. "I feel I am able to be self-reflective in the music and show that you can have flaws and you can make mistakes, but you can power through that. Life is complicated, but it's OK to be sad sometimes and you can turn that into something very empowering."
Empowering young women is exactly what Conroy set out to do this summer when she worked at Girls Rock! Camp, a week-long event that taught young, teenage girls how to empower themselves through rock and roll. She taught women how to sing and perform, and in return the experience encouraged Conroy in her own work.
"It kind of inspired me to push myself even further, seeing how hard these young girls were working towards their goals," she says. "Working towards something new made me look at my own project and see how I could push the envelope, how I could challenge myself and my bandmates and work on all cylinders."
La Guerre is now going full speed ahead, constantly releasing a steady stream of new music (a new album is currently in the works) and playing an assortment of live events in October, starting with Midwest Fall Fest this Saturday. Conroy knows the importance of upping the ante with each new release or show. The music scene is fickle and will always demand more out of an artist, especially one that's been under the microscope in Lawrence for so many years.
"I think it's getting to the point where I don't really want to try to be something I'm not," Conroy says. "I'm comfortable in my own skin because I'm actively working on myself, and that's when people start appreciating and understanding you as a person because it's honest and transparent."
Conroy, however, has high hopes for her future in Lawrence. It is, after all, a town that has well-documented her maturity and musical coming-of-age.
"I've always felt like Lawrence is a place where you could flourish at any age. Every year I get to a point where I think I'm getting burned out on Lawrence, then I find something beautiful again," she says. "I feel like despite what happens in the future, musically for me or where I go or end up, I'll probably be able to click on local newspapers and websites, and think, 'Here's the 'Truman Show' of my entire musical career.'"
— Fally Afani is a freelance writer and editor of iheartlocalmusic.com.