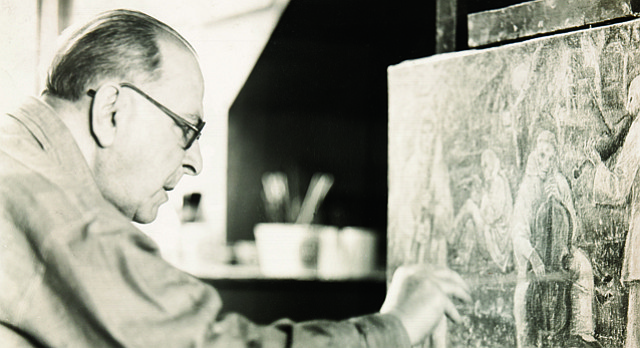 It was about two years ago that Ben Ahlvers first visited Albert Bloch's old house at 1015 Alabama St.
From the outside, the Victorian-era home appeared just like any other along the tree-lined avenue — simple, wooden-framed, with concrete steps leading up to the front porch and an air-conditioning unit protruding from the third-story window.
But while the neighborhood surrounding the house changed over the years — most of the turn-of-the-century family homes in the Oread area have since been divided into apartments to house students from nearby Kansas University — the old white house remained remarkably the same, Ahlvers recalls.
Or, perhaps more accurately, one room of the old white house, which belonged to Bloch, the world-renowned painter and former KU professor of art.
"The studio, in my eye, was this time capsule," Ahlvers says of the space where Bloch created some of his most original and expressive works from 1923, when he arrived in Lawrence, up until the years before his death in 1961.
A handful of those works — 30 oil paintings, 16 watercolors — are now on display in an exhibition curated by Ahlvers, the Lawrence Arts Center exhibitions director, and Bloch scholar David Cateforis, who currently chairs KU's art history department.
Perhaps best known for his association with The Blue Rider, a Munich-based group of Modernist artists active in the 1910s, Bloch served as head of KU's drawing and painting department from 1923 to 1947.
If you go
What: "Albert Bloch: Themes and Variations. Paintings and Watercolors from the Albert Bloch Foundation"
When: Exhibition hours are noon to 8 p.m. Monday through Friday, 1 to 8 p.m. Saturday and 1 to 5 p.m. Sunday.
Where: Lawrence Arts Center, 940 New Hampshire St.
Cost: Free
For more information about the exhibition, including a full schedule of events, visit www.lawrenceartscenter.org.
The majority of the pieces in "Albert Bloch: Themes and Variations. Paintings and Watercolors from the Albert Bloch Foundation," which opened late last month and will remain at the Arts Center until early January, had never been displayed publicly before.
Most of the watercolors, Ahlvers notes, had never left Bloch's studio. Not even in the 50 years following his death.
What Ahlvers — and Cateforis, who helped reignite scholarly interest in Bloch's work with his 1990s research campaign — found at the top of the narrow, twisted staircase at 1015 Alabama St. was, indeed, a time capsule.
Paintbrushes, a jar of turpentine and tubes of oil paint lay scattered across a small table where Bloch used to work. His easel was still there. Drops of paint dotted the floor and other surfaces, "like any studio would have," Ahlvers says.
Bloch's widow, Anna Francis Bloch, was perhaps the greatest champion of her husband's work. In addition to encouraging the "rediscovery" of her husband's work to scholars, curators and the art market beginning in the 1980s, Anna also lovingly maintained Albert's studio, artworks, library and papers until her own death last year at 101.
At that point, more than 50 years after Bloch's death, the studio was also a storage facility.
"Most of the watercolors were in boxes or flat files. They weren't framed; just loose pieces of paper," Ahlvers says of curating the exhibition. "They were what I was drawn to very early in the process. I thought his use of that medium was different from anything I'd seen before."
Born in 1882, Bloch got his start in the art world drawing comics and cartoons for his hometown newspaper, the St. Louis Star. His early works draw from that illustrative background, Ahlvers notes, before eventually evolving into a more rich and abstract approach.
Spanning from Bloch's early days with The Blue Rider to his twilight years in Lawrence, "Themes and Variations" provides insight into the seemingly contradictory career of a man known for his connections to European modernism who at the same time proclaimed himself a "traditionalist" with a penchant for classical music and poetry.
Still-lifes, clowns and landscapes are recurring themes in his work. So too are Christian subjects (Bloch, though not religious in the conventional sense, studied the Bible and believed in the "basic tenants of Christianity," Cateforis says) and bleak depictions of shrouded mourners.
"He does use colors and lines and form in creative and innovative ways, but there is something about his work that isn't really of his time," Cateforis says. "It's speaking to something more timeless and enduring."
You won't see planes or automobiles or any 20th century technology in Bloch's work. Painting, Cateforis says, allowed Bloch to "turn his back on the modern world."
In Lawrence, he "lived privately," says Cateforis, retreating from the urban glamour of the European art scene and exhibiting only by invitation. An idealist, Bloch rejected art as a commercial enterprise. Instead, he saw it as a higher calling.
"He was not out there hustling for shows and seeking recognition," Cateforis says. "He was very happy teaching at KU, working on his watercolors, writing his poems, corresponding with his friends and producing work — work that might not be seen by a lot of people, but, he was content just living a creative life."
The town — which was smaller and more isolated in those days, before becoming a hotbed of counterculture activity in the late 1960s — gave Bloch a quiet place to pursue his creative goals.
Bloch failed to mention his association with The Blue Rider during his application process to KU, perhaps because he was worried about being seen as a radical who might not fit in with his Midwestern colleagues, or maybe, Cateforis speculates, he was just being modest.
That's the kind of guy he was, right until the end. At the time of his death, five decades after his first dalliance with fame in The Blue Rider, Bloch was living a simple life in Lawrence.
His significance in the art world, though never "completely forgotten," had lost a bit of sheen. But Bloch, it appears, was "comfortable with the path he took," Cateforis says.
He'd built a legacy with his students at KU, and, thanks to art scholars like Cateforis, Bloch is now regarded as an important figure in American art.
"The result is the work you see at the Lawrence Arts Center, which I think exhibits the integrity and dedication to the pursuit of his creative vision," he says. "It's so personal and unconcerned with fashions and the march of art history."
Throughout his career, both abroad and amid the rolling, remote hills of northeast Kansas, "Bloch pursued his own path."