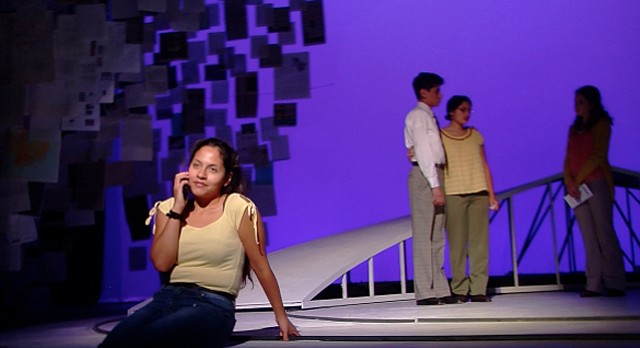 "Johanna: Facing Forward" begins with a lone gunshot.
Alejandra Villasante Ramos, the Kansas University junior tasked with the titular role, falls backward into the arms of shadowy figures.
We don't see the blood — or a fictionalized version of the bullet fired by Juan Ruiz that left a hole in Cleveland teenager Johanna Orozco's face back in 2007 — in KU Theatre's production.
We just see a stage that's suddenly flooded with deep, red light.
It's minimal, but the very real horrors of domestic violence don't need embellishing.
"Intimate partner violence is public health issue — it's not just a private matter," says playwright Tlaloc Rivas. "Because I'm an artist and a writer and a director, this is my way of trying to address the issue. I'm trying to tell a story that will call people to action in some way."
"Johanna: Facing Forward" tells the extraordinary story of Johanna Orozco, who not only endured a sexual assault at the hands of her abusive ex-boyfriend but also a shattered jaw and disfigured face that she bravely refused to hide, even for the reporter and photojournalist who documented her recovery in the Cleveland Plain Dealer.
The series sparked a national movement against teen violence, and — along with Orozco's journal entries — provided the basis for Rivas' stage adaptation, which will be performed this weekend at KU's Crafton-Preyer Theatre in Murphy Hall.
If you go
What: "Johanna: Facing Forward"
Where: Crafton-Preyer Theatre at KU's Murphy Hall, 1530 Naismith Drive
When: Friday and Saturday at 7:30 p.m., and Sunday at 2:30 p.m.
Cost: Tickets are $18 for adults, $17 for seniors, KU faculty and staff, and $10 for children — though the production may not be appropriate for kids under high-school age, KU Theatre notes. Reserve seats at www.kutheatre.com, the KU ticket offices, or by calling 864-3982.
In telling Orozco's story, Rivas says he meant to examine a number of questions raised by journalist Rachel Dissell in her original "Johanna: Facing Forward" series.
Namely, "How did this young girl, who was surrounded by love and protection from her family, still become victimized?" he says. "And how did our society fail to protect her?"
The play's opening scene, Rivas says, is meant "to really plunge the audience into this moment" that changed Orozco's life forever.
Told through flashbacks, "Johanna: Facing Forward" chronicles Orozco's journey — from the sweet beginnings of her romance with Ruiz, to her recounting of the rape to a detective while being examined in the hospital, to her eventual confrontation of her assailant in an Ohio courtroom.
"There are so many victims of domestic violence, and Johanna's one of the very few who survived," says Rivas, a visiting artist with the KU theater department who's also directing the play. "Instead of retreating, she decided she needed to be a voice for the voiceless, for the countless others whose voices had been taken."
Orozco's evolution from victim to educator and activist led to the passing of a bill known as Shynerra's Law in 2010. The legislation gives Ohio Juvenile Court judges the ability to order protective issues to teenagers in abusive relationships, a resource that didn't exist when Ruiz allegedly raped Orozco after their break-up in 2007 and then shot her point-blank just a few weeks later.
Murphy Hall is only the second venue to stage "Johanna," which debuted just over four months ago at the Cleveland Public Theatre.

It's been a "great" experience for Rivas so far, who will lead an audience discussion with Dissell, after Saturday night's performance.
Rivas said he'd like to bring "Johanna" to other universities — where one in four women are sexually assaulted during their college careers — after its run at KU.
Orozco, now living in Germany with her husband and young son, suggested Rivas even take the play overseas to her new country.
"Which is really extraordinary," he says, "Because that's how far her story has reached in terms of people around the world hearing about her story journey from victim to survivor."
As for where the play goes next, "any community in the United States, or around the world," but hopefully, Rivas says, somewhere he hasn't been yet.