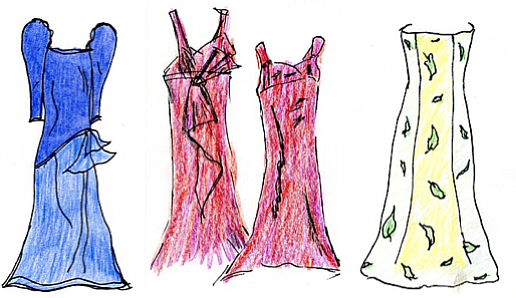 "It wasn't really about prom," insists Sandy Hazlett of her new collection of poems entitled "The Prom Dress Room."
She's good-natured, even when fielding questions about her own prom (she doesn't remember much about the dance itself, aside from an Under the Sea theme) and her fuzzy memories of what she wore to the grand event some 40-odd years ago.
But for Hazlett, who will host a reading of the book Thursday evening at the Raven Book Store, the collective American teenage experience known as The Prom is really just shorthand for the time in a young person's life when the first steps are taken into adulthood.
"Really, what that means is you're graduating from high school, and that's a huge transition," she says. "And the choices you make after that are really what make us who we are."
If you go
What: "The Prom Dress Room" reading. In addition to Sandy Hazlett, local authors Ronda Miller and Jose Faus will also be reading their work.
When: 7 p.m. Thursday
Where: the Raven Book Store, 6 E. Seventh St.
Cost: Admittance is free. Hazlett's book costs $8. All proceeds from sales of "The Prom Dress Room" will benefit the Social Service League.
Yet prom, that fleeting moment between girlhood and the realities of grown-up life, isn't the focus of "The Prom Dress Room," which takes its name from a longstanding Lawrence tradition known as Project Prom Dress.
Every year, a few months before the onset of prom season, the Social Service League hosts a giveaway of gently used formal dresses for young women in Douglas County.
Hazlett, a longtime volunteer with the Social Service League, was tasked with cleaning and organizing the donated dresses one winter about four years ago when she first developed the idea for "The Prom Dress Room."
There, above the historic stone building at 905 Rhode Island St. that houses the Social Service League thrift store, Hazlett sorted through the bevy of colorful frocks.
Each seemed to have its own story. Hazlett couldn't help but wonder who had worn the dress originally.
Who was she? What was her life like? And what kind of person would she grow into?
The resulting poems, Hazlett says, "wrote themselves." Every week, she found herself taking home a new dress, capturing its likeness with ink and colored pencils and writing the story of the girl who wore it to prom.
Originally published in this year's edition of the Coal City Review and Press, "The Prom Dress Room" first became available in book form (it's published by Anamcara Press) two months ago.
Both are local, Hazlett notes. All proceeds from her book sales at the Social Service League and the Raven benefit the organization that inspired her poems in the first place.

"The dress you choose says a lot about who you are right then, and how that will extrapolate in the future to make your life…." Hazlett says, her words trailing off. "Now, of course you don't have control over all these things, but you're there, and who you are is there, and the woman you become is there."
Women are at the heart of "The Prom Dress Room." The poems follow nine different women coming of age amid the kind of familial and societal pressures that seem inherent to growing up female.
None are purely autobiographical. "But all these images came from my life, from stories that I'd heard, things that happened to friends," Hazlett says.
Bits and pieces of her teenage years and young adulthood are scattered throughout the book.
In the poem "3D Red," Hazlett's real-life prom date, identified simply as "Martin," shares his name with the one-time husband of the poem's protagonist, a self-assured and beautiful young woman who becomes a surgeon and ends up leaving all three of the men she married.
"My two girls grow to despise me," the poem reads. "I was not made for this man's world."
And then there's the heroine of "Diamond Straps," whose sleek black gown calls to mind the famous John Singer Sargent painting "Portrait of Madame X."
Hazlett's character wears her "diamonds as they were repainted, high and wide as my dreams."
It's a reference to the scandal Sargent faced upon debuting his painting in Paris, where critics were outraged by the suggestiveness of one jeweled strap falling down the model's right shoulder. Humiliated, Sargent painted over the original, showing both straps securely fastened.

In "Diamond Straps," the young woman steps "elegantly into the future," but within a year, she drops out of college. Plagued by mental illness, the once-hopeful girl becomes "solemn and suicidal," and is sent away.
She survives, but only barely.
"It never does get any better than that," the poem reads. "I become the fallen diamond strap."
Hazlett's personal connection here is two-fold. Her maternal great-grandmother, Louise Pomeroy, was also a model of Sargent's — the painting of the dark-haired beauty belongs to Boston's Museum of Fine Arts now, Hazlett says.

"This kind of depression that can ruin a life," as it did with the heroine of "Diamond Straps," runs in Hazlett's family, "particularly through the women down that line," she says.
For many women, Hazlett acknowledges, "life is difficult."
Her "Prom Dress Room" stories illustrate the ways in which the voices and experiences of young women can be so easily silenced or devalued. Identities are lost, found and, in the case of the girl in "Crystal Leaf," reclaimed after years of sexual abuse waged by her own father.

"That didn't happen to me," Hazlett says. "Oh, people I knew, friends. It does happen to a lot of women."
She says this matter-of-factly, but not without a twinge of sadness in her voice.
And yet, the traumatized young woman at the heart of "Crystal Leaf" is able to discover her own strength and find purpose in her life.

So, too, does the spunky protagonist in "Homemade Sparkling Peach." She sews her own dress — a gaudy, high-hemmed confection, "all sanguine and sequins" — and has plans to become an entrepreneur, importing fabric and handcrafts from the Silk Road.
Her future makes no mention of these dreams, but "Homemade Sparkling Peach" seems happy to live a "moderately hemmed life" with her Presbyterian minister husband. She ends up sewing her daughter's prom dress when the time comes.
"She is content and she is strong," Hazlett says of her character. "She made her life as she made her dress."
"The Prom Dress Room" is an overtly feminist text, its author realizes. Hazlett knows "that word scares people," but she's unapologetic about her stories — what makes them feminist, she says, is their unflinching depiction of the inner lives of ordinary women.
Each and every one of them — from the surgeon in "3D Red" to the schoolteacher in "Crystal Leaf" to the preacher's wife in "Homemade Sparkling Peach" — feels undeniably real.
Perhaps that's because their stories all come from real people in Hazlett's life. She hopes they'll feel as authentic to those who pick up the book.
Hazlett won't be alone at Thursday's reading. A "surprise" group of local writers — all of them women — will read the nine poems in her book.
She's saving the introduction for herself, and will step in to read if someone can't make it.
For Hazlett, who is so quick to dismiss any attention that comes her way — keep the focus on the Social Service League, she insists — it's an "exciting" occasion.
"It's so cool that I'll have different voices of different women reading the different poems," she says. "They'll bring to life the different voices that come out of these stories and these dresses."
'Solitaire'
"Solitaire" is one of nine poems in Sandy Hazlett's "The Prom Dress Room."
I am the winter prairie,
broom sedge, little bluestem,
coyote fur, a herding, lone, red heeler.
I am thin skinned, indecisive,
uncomfortable in crowds.
I melt into my dress.
I mimic flesh so I can blend in.
I keep it short so I can walk away.
Clubs, pearls, and lace at my waist,
two lines of thought, subtle decorum.
I am a pleated column.
I will go to nursing school,
join Doctors Without Borders,
travel to the Caucasus.
I will meet a handsome intern
who marries me when I become pregnant.
I raise his two sons. He never loves me.
We retire to Coral Gables, Florida.
The doctor dies peacefully in his reading chair.
I sneak cigarettes in the bathroom
and eat scrambled eggs with ketchup
because there is no one to tell me not to.
I have chronic catarrh and spit into the coconut tree.
In my pearl slippers on terra-cotta tile
I shuffle cards in a metal box
and play solitaire in the sunroom.