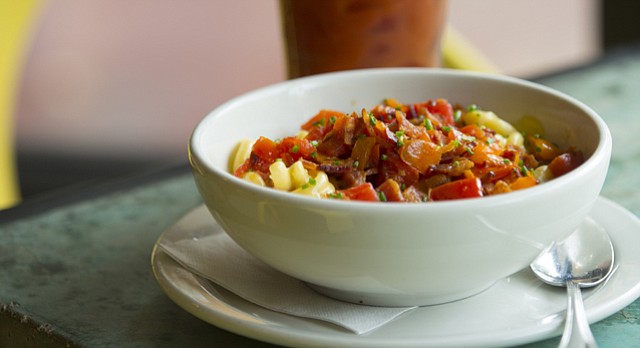 Thursday, September 3, 2015
With fall semester at Kansas University and Haskell Indian Nations University officially underway, we thought we'd celebrate the students' return with a roundup of some of the many hangover-themed dishes (from the greasy to the greasier) available at local restaurants.

Obviously, you don't have to actually suffer from a hangover to enjoy these comforting selections. A (delicious) biscuits-and-gravy pizza is a biscuits-and-gravy pizza, no matter how you slice it.
The Hangover at Tad's Pizzeria, 1410 Kasold Drive
As assistant general manager at Tad's Pizzeria, Amanda Albrecht has gotten used to fielding questions about The Hangover. After all, she says, it's not every day you see scrambled eggs on a pizza.
That's partly what makes the popular pie a hit with the weekend crowd, who regularly call Tad's on Saturdays and Sundays asking around for the pizzeria's best hangover cure, Albrecht says.
"It contains eggs, ham, bacon, veggies (green bell peppers), and it is a pizza," she says of The Hangover. "I think the combination of all those aspects is sort of your typical hangover fare — greasy and breakfast-y."
The Hangover, which former Tad's general manager Kristin Meixner developed a few years back, has proven so popular that it's since spawned more breakfast pizzas.
Thinking of starting your weekend early? You can snag The Hangover (or one of its cousins, such as the Flamin' Omelet pizza) for 20 percent off on Fridays.
Chicken-fried steak at Ladybird Diner, 721 Massachusetts St.
"Rough night?" reads the description on Ladybird's menu. "This will help you forget…or remember."
That's the idea behind Ladybird owner Meg Heriford's interpretation of the comfort-food classic, which is smothered in sausage gravy, topped with roasted green chiles and served with eggs (any style) and hash browns or grits.
"It's a deep-fried steak that's been hammered out, and it's got a lot of breading on it, so I imagine it's pretty good for you," says floor manager Christine Fedderman.
So is most of Ladybird's breakfast menu — at least on mornings when you're feeling particularly dead inside — which also includes biscuits and gravy as well as French Toast B.E.C., a savory-sweet mashup of bacon, fried egg and cheddar sandwiched between two slices of batter-dipped, homemade brioche.
Biscuits-and-gravy pizza at Limestone Pizza, 814 Massachusetts St.
When Limestone expanded its hours to Sundays about a year ago, co-owner Debbie Rascoll said the goal was to accommodate "late risers" from 11 a.m. to 4 p.m.
Since then, co-owner/chef Rick Martin's biscuits-and-gravy pizza has emerged as a Sunday best-seller among the restaurant's rotating menu of brunch-y creations.
The pie — which is topped with house-made breakfast sausage, a reduced cream-based gravy, crumbled sage, eggs and Gruyere cheese, plus a coating of melted butter along the crust for a "biscuit-y" taste — is definitely "one people get excited about," says server Pearl O'Brien.
"The biscuits-and-gravy pizza is a good, absorb-everything-in-your-stomach kind of meal," she says.
It's got quite a bit of heft to it, O'Brien adds, so share this one with a screwdriver (Limestone makes those, too) and a few hungover buddies.
Roost Mac & Cheese and Smoke Up Johnny bloody mary at The Roost, 920 Massachusetts St.
You could say The Roost, being a breakfast place, is inherently suited to the woes of the hangover-stricken.
And you may be right on that count, but for an especially atrocious hangover, Roost co-owner Kenny Pingleton has one go-to recommendation.
"The Roost hangover cure is a Smoke Up Johnny and a bowl of mac and cheese," he says.
The restaurant offers several variations on the bloody mary, but the Smoke Up Johnny — which contains smoked chipotle peppers, smoked tomatoes, smoked tomato juice, hickory-smoked cheddar cheese curd, pecan-smoked bacon and smoked paprika — seems to be the most popular on weekend mornings when paired with a big bowl of macaroni and cheese, Pingleton says.
The trottole pasta in cheesy béchamel sauce stands well on its own, but Pingleton says adding bacon and tomatoes or meatballs is a popular choice.
Pingleton first noticed folks ordering the bloody mary/macaroni combo during shifts at the bar, where (surprise, surprise) people suffering from a hangover tend to hang out the morning after.

These days, he's quick to recommend The Roost's special one-two punch when someone comes in asking for a hangover cure.
Breakfast sandwich at Leeway Franks, 935 Iowa St.
When Leeway Franks owner Lee Meisel overindulges, you can bet he'll reach for "an egg or something cheesy" to soothe his tummy the next day.
As far as he's concerned, breakfast food is the best hangover food, and Meisel is particularly proud of his breakfast sandwich, which customers can snag anytime from 11 a.m. to 7 p.m. Tuesday through Saturday.
"It's cheesy greasiness on a sandwich," Meisel says of his creation, which comprises a house-made pork sausage patty, fried egg, American cheese and spicy mayonnaise on Texas toast. "How do you go wrong with that?"
At Leeway Franks, it's served with french fries or tater tots. This week, Meisel is offering a bacon option (cured in-house, following Leeway Franks' nose-to-tale credo) and says the special should continue for a while, at least.
Or, he says, you can always go ham (get it?) and order your sandwich with sausage AND bacon. You're hungover, after all.
"I'd say that half our menu is probably in that category," Meisel says. "We encourage people to have fun and then come hang out with us and maybe have something early in the morning to make you feel better."
Hangover Hashbrowns at The Burger Stand, 803 Massachusetts St.
When it comes to hangovers, comfort is king, at least according to Beau Bruns.

"People aren't going to wake up and get a salad to cure their hangover," says Bruns, general manager at the Burger Stand. "They want to grab something (greasy) and stuff it in their face and make all the pain go away."
Fair enough. At The Burger Stand, chef Simon Bates has created a dish with all the essential components of a hangover cure. His aptly named Hangover Hashbrowns — layered with red-eye gravy, an 8-ounce burger patty, peppadew and pepperoncini peppers, and topped with a fried egg — might just be "upwards of a pound of food," Bruns says.
That's what makes it a perfect hangover cure.
"It's greasy, it's carb-y, it'll soak everything up," he says of the Sunday brunch special, which you can snag at The Burger Stand from 11 a.m. to roughly 2 p.m., or when the hash browns run out.
Have a hangover food recommendation of your own? Let us know in the comments.